Washington, DC—Approximately 20,000 organic molecules composed of carbon, hydrogen, nitrogen, oxygen, or sulfur were found in samples returned to Earth from the asteroid Ryugu by the Japan Aerospace Exploration Agency's Hayabusa2 mission, according to  new work published in two Science papers from an international team that included Carnegie's George Cody, Jens Barosch, and Larry Nittler.
Named after a Japanese folktale, Ryugu is a near-Earth object, half a mile across, shaped kind of like a spinning top that orbits the Sun every 16 months. Hayabusa2 was the first mission to bring material back to Earth from a primitive asteroid, offering unique insight into the building blocks from which our Solar System was formed and the possible origin of organic material that contributed to Earth's habitability.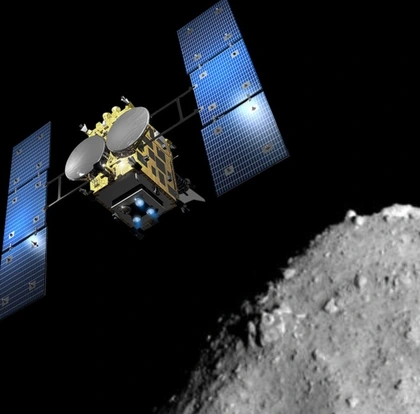 "In the past, our research has been limited to studying space rocks that came to us by crashing on Earth. With Hayabusa2, we were finally able to go to out to a carbon-rich asteroid and see how it compares to the meteorites that reach Earth," Cody said.
The returned Hayabusa2 samples enabled scientists to compare Ryugu's makeup to material found in primitive meteorites called carbonaceous chondrites. The parent bodies of these projectiles formed—just like Earth and its sister planets—from the rotating disk of gas and debris that surrounded our Sun in its youth. Over time, collisions led them to break apart and form the asteroids and meteorites that populate our Solar System today.
It has been theorized that complex organic molecules and volatiles—compounds named for their relatively low boiling points, including water and other materials considered essential for life—piggybacked their way to our planet on the backs of meteorites.
"Previous analyses have revealed organic molecules within carbonaceous chondrites, but until now, we haven't been able to see whether or not these primitive projectiles differ from what's found on asteroids," explained Nittler, who left Carnegie for Arizona State University last fall. "Our work on the Ryugu samples provides the first direct link between the organic material found in chondrites and that from asteroids."
Hikaru Yabuta, a former Carnegie postdoc now at Hiroshima University, was the lead scientist on the international team responsible for using sophisticated microanalytical instruments to study the insoluble organic material found in the Hayabusa2 samples.
The researchers' efforts revealed amino acids, the base material from which all proteins are constructed, as well as other important classes of organic compounds including carboxylic acids, amines, and aromatic hydrocarbons—all of which are found in the natural world on Earth.
The distribution of the organic material showed evidence of chemical processing that occurred on the asteroid's parent body before it broke apart. The hydrocarbons in particular indicate past interactions with water.  However, there was no evidence that the material was altered by heat during this period.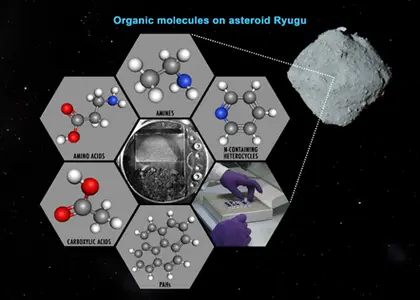 "At least some of the organic matter in Ryugu samples predates the Sun's formation and was formed in extremely cold conditions," added Cody. 
Carnegie has long been a leader in using geochemistry and cosmochemistry to unravel the history of the Solar System's formative years and the source of many of the materials that allowed life to arise and thrive here on Earth.
"These exciting Hayabusa2 results shed new light on processes that we have been at the forefront of studying for decades," concluded Michael Walter, Director of Carnegie's Earth and Planets Laboratory. "And there are many more exciting results on the horizon from Hayabusa2 and future sample return missions."