Remembering Winslow Briggs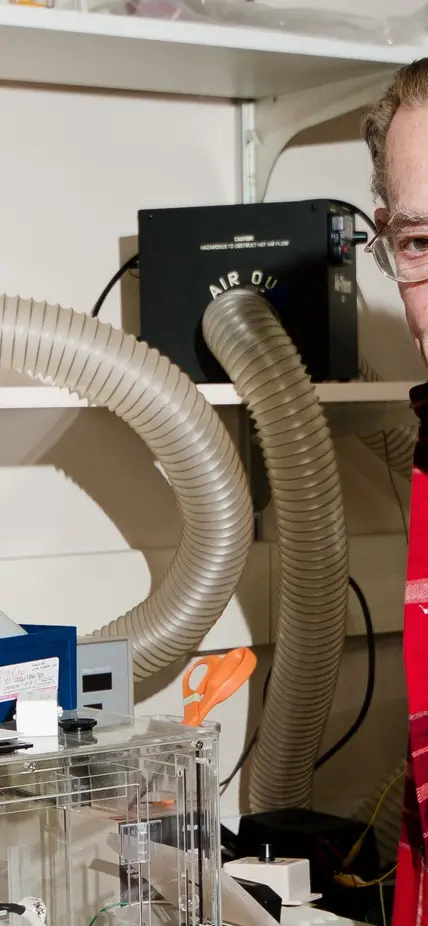 Students, postdocs, collaborators, and family remember Winslow Briggs
Full-text of comments included in A Biographical Memoir of Winslow Russell Briggs, published by the National Academy of Sciences, 2023. 
---
Tobias I. Baskin, Graduate Student, Stanford University, 1980-1986
Professor of Biology, University of Massachusetts Amherst 
baskin@bio.umass.edu
Picture the solid wooden table in the Carnegie seminar room, admire the gnarly live-oaks through the wide windows, and smell the burnt coffee. There I was, sitting around that table with my Ph.D. Committee, clutching a folder of homemade graphs, starting to cough up my progress. I'd hardly have begun when Paul Green's eyes would twinkle, his finger would rise, and he'd proffer a terrible pun. I'd smile, tentatively, and keep going. Well, Winslow, not to be un-punned would tilt his head a little to the side, peer seriously at me, and crack another, even more atrocious, pun. Paul would never let that rest, and so it would go, back and forth, for an hour, at which point the Briggs rule would terminate the meeting. At the time, I felt relieved about escaping criticism and also worried that criticism was just what I needed. But now, I realize that all this banter had the salutary effect of putting me at ease. In between their wordplay, I probably explained my work sufficiently, without even noticing. 
For Winslow, humor was every bit as important as the proper control. I still remember his delight when I submitted a Ph.D. paper on phototropism in pea with the running title: PhototroPisum. I can also remember, when Anton Lang (the editor-in-chief of Planta) refused to print the joke, Winslow was dismayed, being certain that Planta had missed a needed opportunity to lighten its heavy pages. He believed that humor should be taken seriously. 
Winslow was a remarkable scientist, an inspiring teacher, and enormous fun. May the world long remember his results as well as his humanity. 
---
Michael R. Blatt, Graduate Student, Stanford University, 1975-1980
Regius Professor of Botany, University of Glasgow
Michael.Blatt@glasgow.ac.uk
About Winslow, I struggle to write something that doesn't sound either trite or sentimental. Clearly, there is a good reason why the Germans refer to one's thesis advisor as the 'doctor-father'. A good advisor does take on a role of a surrogate father in some ways, a point that really struck home for me in the mid-90's. At the time that Winslow was diagnosed with esophageal cancer, I was on sabbatical with Eberhard Schaefer and remember vividly the emotional blow I felt when Eberhard relayed the news.
  I recall many snippets of my interactions with Winslow over the years that feed into this sense of a father-figure as well as (later) of a colleague. My favourites, though, are of our mutual pleasure in playing word games and the sheer delight that showed on Winslow's face whenever he found a moment to jest. The jokes were often vaguely political but never personal … well, unless directed to himself. I recall his pleasure in pointing out the omission of scale labels on a plot in one of his Annual Review articles to which he had carefully pencilled into the Carnegie library copy 'beers consumed' on the x axis and 'inebriation' on the y axis.
  My time as a PhD student overlapped with the reign of Idi Amin in Uganda. No connection, of course, except that Winslow determined that the despot was THE primary amin(e). And on the occasion that the Bay Area Rapid Transport finally opened connections southward on the peninsula side of the bay – and then failed to do more than move passengers more than haltingly – Winslow noted of the experience that "his BART was worse than his bike". I am certain that Winslow was entirely conscious of the many 'typos' in my thesis (including measurements that surpassed the "reverence level") but he let these pass without comment for over thirty years until, on submitting his Founder's Review to me for publication in the January 2014 issue of Plant Physiology, he asked explicitly that I not alter his acknowledgement and reference to the "motive farce" behind the article. Payback!
---
Caroline Briggs, Daughter
My father and his grandfather, LeBaron Russell Briggs, shared to a marked degree characteristics that can be found throughout the Briggs family tree. In Daddy it must have seemed like the Dean had come back as a biologist. They were both very gentle, modest men, and neither seems to have had much sense of personal ego or vanity. Perhaps in part because of this they were revered as both teachers and mentors. It was said that a man had a better day if one had to be scolded by the Dean than praised by any other faculty member. And my father in his way had an equally long reach: I never heard him speak of any piece of work without first identifying which student/post-doc/colleagues were really responsible for all the good stuff: "I owe it all to my _____." It is said that a man dies twice: once when his body dies, and the second time when his name is spoken for the very last time. I believe that they will both live forever. 
Great-grandfather was the Dean of Harvard College, from 1891 to 1902, then Dean of the Faculty of Arts and Sciences from 1902 until he retired in 1925. In 1903 he succeeded cofounder Elizabeth Agassiz as President of Radcliffe College, a post held until 1923. He was a passionate supporter of college athletics, amateurs playing for the honor of team and college,* and after some urging from his good friend Teddy Roosevelt (and considerable fear that college football might cease to exist at all) he joined representatives from other universities and colleges to create a common set of rules and standards and to eliminate cheating and the use of professional ringers. This nascent organization would one day be known as the NCAA. He was President of that for a number of years, too.  
What doesn't come across in that horrifyingly impressive CV is the character of the man himself. He was always ready to listen, and always expected to hear something new and interesting. The Dean was beloved and revered by thousands of students because he spoke to their concerns with sympathy, sensitivity, and humor; a student knew that whatever was amiss would improve after a session with the Dean. And he was a brilliant teacher. His classes in writing, particularly after WWI, were taken by some of the best writers of the early 20th century. His classes on literature were always heavily over-subscribed. His students adored him, but they didn't worship blindly! 
He once read a class a section of the Odyssey, (beautifully of course) translating on the fly. Two students in the back of the class (there are always students in the back of the class) made a bet that he must be reading out of a translation. After class, they made their way to the Dean's desk to take a surreptitious look at his Homer. Finding only the original Greek, they confessed that they would have expected nothing less from their Dean! His books on pedagogy, on education, on ideals, were widely read in the decades before WW II and their influence has not entirely waned. His methods were copied and extended to other universities and disciplines, and his words were quoted widely—his reputation was such that when he died it was a time of national mourning.   
The Dean's biographer describes him in ways that sound just like my father: "…his youthful earnestness, his youthful love for every aspiring thing, his youthful faith, and his austere youthful idealism will pass…and he shall have the immortality that may be enjoyed among men."
Times may change, but my father had that same enthusiasm, that same endless curiosity, the drive to listen, to ask, and to know more about it, whatever it was. Like the Dean, he had the priceless gift of encouraging that which was good, redirecting that which was not a profitable direction for further inquiry, and doing both with kindness, intellectual rigor, and a brilliantly nutty sense of humor. All the qualities of great mentors, in fact. 
What else did they have in common? They shared a belief in the restorative powers of being in nature. Great-grandfather escaped to the woods of Plymouth, where he had established a family compound on the shores of a lake. The property is still in the family, virtually unchanged, and is still a retreat for us all. My father had Henry Coe State Park, a place he and my mother spent countless hours hiking, exploring, investigating, volunteering, and more volunteering. 
They both left legacies of excellence across a wide variety of different areas. A small monograph on the cultivation of dahlias? A guide to the flowers of Henry Coe State Park? Great-grandfather's books, the buildings, the statues and paintings, are all artifacts** of his time as an educator and a shy, unwilling public figure. My father's legacy is found in the Briggs genealogy—all those former graduate students and post-docs who proudly proclaim that they are products of a Briggs lab, down unto the generations. At his memorial service I met several people who told me their level of remove from the original, then hastened to assure me that in THEIR labs, the core values remained steadfast: encouragement, rigor, curiosity, collaboration, kindness, respect, silly humor, and, of course, great Chinese food. Their labs, they say, were "Briggs Labs."
We were a very close family, and looking back, I believe it began with the remarkably similar backgrounds and interests my parents shared. They were both children of educators. My father's father, John DeQuedville Briggs, was headmaster of his school, primary and secondary: the St Paul Academy. My mother's father, Raymond Soule Morrill, was the principal of her high school. They both attended summer camps and became counselors. They both loved being outdoors with their fathers—my father went on long canoe trips through the Boundary Waters of northern Minnesota's granite shield country. My mother went fly fishing with her dad in the spectacular mountains in eastern Massachusetts and New Hampshire. They both loved sports, though I didn't know this until quite recently. My father played both offense and defense for his varsity football team, a drive he may well have gotten from his mother, Marjorie Winslow Briggs. She was a gifted pianist, but she also had a fine stubborn streak—on the day of her final examination recital at Smith College, she disobeyed orders from her piano instructor and raced across campus in time to play goalie in the last field hockey game of the season (which Smith won), then raced back across campus to play her recital, telling her instructor only afterwards about the final risk she'd taken to her precious hands. My mother's father took her with him to MIT home basketball games—he was the MIT timekeeper, and by age 11 she had learned to call plays as well as any courtside analyst. They both believed in a tradition of service. They volunteered for the causes that mattered, beginning with the California Fair Housing Act in the very early 60s. I have a vivid memory of sitting on Daddy's shoulders in a very hot parking lot, waiting to hear Rev. Martin Luther King, Jr. 
I suppose you could say my sisters and I were also raised in a Briggs Lab, not that I think any of us were terribly appreciative at the time. However, the qualities we can enumerate in my father, his father, and the Dean were passed on to us, leavened with my mother's joyful exuberance. We are curious and kind. We are silly, but careful; rigorous, because there are wrong answers; and encouraging, because there are right ones as well. Mentors, teachers, and parents. Heroes. We were so lucky.
*It is due to the Dean that scoreboards everywhere say Home and Guest or Visitor. They don't, ever, say Opponent. Sports are arenas of honor, anything else was anathema to him. 
**In one of his addresses he says: "Ask not what your school can do for you, but rather what you can do for your school." And I do not believe that the construction was original with him—I ran it down once and discovered it had been used in some obscure writing in England in the mid-19th century. This is not to take anything from JFK, who delivered it to all of us in 1961. He closed his inaugural address by asking a nation to consider what they could do for their country; the power of his rhetoric spurred an entire generation to public service. 
---
John Christie, Postdoc, Carnegie, 1997-2002
Professor, Institute of Molecular, Cell, & Systems Biology, University of Glasgow
John.Christie@glasgow.ac.uk
I feel very privileged to have worked with Winslow at Stanford for my postdoctoral studies from 1997-2002 and fondly remember that time as the most enjoyable part of my scientific career. I hadn't met Winslow in person before that, so I was quite nervous to meet him for breakfast at the Briggs residence in Hale St (Ann picked me up at SFO the night before and they had both insisted I stay with them until I found a place to stay). We cycled to Carnegie that morning and I remember struggling to keep up with Winslow as he speedily manoeuvred around the streets of Palo Alto. I was 26 years of age then and Winslow would have been approaching 70. I remember thinking "who is this guy?!". That first impression still continues to this day and I will never forget how his enthusiasm for science and life in general was infectious and uplifting to everyone around him. A brilliant mind and mentor, yet one of the most humble and modest people I have met. He had a great sense of humour. I remember the first time I gave a practice talk for a conference in the Carnegie seminar room. Winslow sat as the back with a cheeky grin and held up a "no um" sign when I struggled for words, which made it all the harder for me to continue for laughing. He was the father of the field and is sorely missed by the plant photobiology community. I end with an expression he often used to commend the people he had worked with – Winslow, we salute you. 
---
Charles F. Cleland, Graduate Student, Stanford University, 1962-1966
SBIR National Program Leader, USDA/NIFA, Retired
ccleland39@gmail.com
Winslow Briggs was the most versatile plant scientist I have ever known.  He was trained in plant physiology/morphology but he knew plants and understood all aspects of plant biology (he was very proud of his first two publications on the flora of Cuba).  As his career evolved he readily embraced and utilized the most current and modern technologies. 
Win was an excellent teacher of subjects ranging from a class on mosses and ferns to the most advanced plant physiology courses.  In the advanced plant physiology course that he taught at Stanford there were no tests; instead students had to pick a subject of interest and then write a major review article as if it was being submitted for publication.  He would evaluate these papers very critically and students learned some valuable lessons, such as to avoid split infinitives and dangling participles.
In my case I decided to write a paper on some aspect of flowering and Win suggested I focus on some recent papers by William Hillman on flowering in Lemna.  A few months later when I decided I wanted to pursue my Ph.D thesis research with him, he asked me what I wanted to work on.  At that point the subject I knew the most about was flowering in Lemna and that is how I started my work on Lemna.   
In 1962 Win did a sabbatical at the USDA laboratory in Beltsville, MD with Harry Borthwick and Sterling Hendricks.  This was the start of his long-term interest in phytochrome.  Like most university scientists he was used to working sometimes in the evening or on weekends but at Beltsville everyone worked an 8 hour, 5 day a week work schedule.  It took him several months before he could obtain a key so he had some flexibility on his work schedule. 
Win had an active interest in food and cooking.  The original recipe for whole cranberry sauce was developed by a relative of his.  For many years he and Ann would buy large amounts of cranberries and make their own cranberry sauce.  After he returned to the Carnegie he developed a real passion for Chinese cooking and for many years family and friends were treated to very tasty Chinese food that he had prepared.
Win had a great interest in Gilbert and Sullivan operettas. He and his two older daughters learned the music and librettos for most of the G & S operettas and they would entertain each other by singing the music.  On one trip across the country they managed to go through the words and music for almost all the operettas.
---
William Eisinger, Collaborator, 1988-2019
Professor Emeritus, Department of Biology, Santa Clara University
weisinger@scu.edu
It was as if I knew Winslow before I ever met him.  I had read his papers in graduate school and then as a postdoc at Stanford in 1970 I found myself working in the lab he had designed for himself.  Peter Ray, my mentor, had inherited the lab after Winslow's unexpected departure for Harvard in the late 1960s.  A few years later I met Winslow at a Carnegie seminar; he was warm and welcoming to me as a new assistant professor at nearby Santa Clara University.  During these early years Winslow often gave guest lectures in my classes and hosted annual tours of the Carnegie for my students.  During a sabbatical in Winslow's lab in the 1980s I was initially surprised when he asked me not to play classical music while we worked.  Because Winslow had been a music major at Harvard before turning to biology, he found it too distracting in the lab.  Music remained a major part of his life and deserved his full attention when played.
About 2000, Winslow invited me to tour the Henry Coe State Park about 50 miles south of Stanford.  In his old 4 x 4 we explored the majestic and remote back country.  Winslow was just as comfortable clearing brush from the road ahead as he was editing manuscripts with me in his lab.  Winslow was horrified in 2007 when a raging forest fire destroyed half the park that he and Ann loved so well.  However, in the months that followed, Winslow's spirits rose as each new seedling grew in the scorched soil.  Within the next year, many of the trees recovered and there was a bounty of wildflowers not seen in generations.  This was a personal victory for Winslow.
My nearly 50 years with Winslow as a colleague, mentor, and friend were some of the best times of my personal and professional life.
---
Tony Foster, Artist and Friend Cornwall, England
I first met my dear friend Winslow on the John Muir Trail in 1986 – I was hiking the 215 miles from Yosemite to Lone Pine to make a series of paintings.  He, with Ann and teenage daughter Marion, was doing the trail with a pack llama.
I stopped to paint at frequent intervals.  Winslow's party was equally slow – their pack llama refused to go further than 8 miles a day.
In this way we leap-frogged each other along the trail, and became firm friends in the process.
Since that time Winslow and I shard many adventures – hikes in remote areas of Grand Canyon's North Rim, some with middle daughter Lucia; a ten-day hike across Joshua Tree National Monument in spring bloom; a clifftop hike along Cornwall's rugged North Coast.
Winslow was the ideal back country companion – reliable, knowledgeable, patient, self-reliant.  Except for one fierce argument – about the division of our last shreds of beef jerky, we were entirely compatible.
All my memories of Winslow make me smile – his unique hiking gear – red felt pixie hat, shapeless oversized shorts, and, even on our desert adventures, his lucky ice axe; his unfailing hospitality – in the kitchen like a mad apothecary, surrounded by mysterious bowls and dishes, creating a Chinese feast; his eagerness to get involved; his love of music and conversation.  He was always fizzing with excitement about his science.  I seldom understood his explanations, but his enthusiasm was absolutely infectious.
I have a last poignant memory of Winslow: He had contrived for Anne, myself and my wife Ann, to stay in the Carnegie retreat on Point Reyes so that I could do a painting.  In the late afternoon sunshine Winslow and I strolled down a narrow path to a deserted beach.  Accompanied by the sounds of surf and the cries of gulls we sat on a log together and caught up on the gossip.  I fired up my MSR stove and brewed the last of the many wonderful tea breaks in beautiful places we had enjoyed together.
---
Wolf B Frommer, Staff Member, 2003-2020, and Director, 2007-2016, Carnegie
Alexander von Humboldt Professor, Heinrich Heine University, Dusseldorft, Germany
frommew@hhu.de
Winslow was and will continue to be the role model for scientists and a role model for all humankind. Due to his exceptional empathy and intellect, he was always humble, smiling, friendly, supportive and altruistic. Many say that he would have become a world class pianist if he had not become one of the most influential scientists. He loved nature and his talks always showed images of his ascent of Denali. He and his wife Ann were responsible for the family atmosphere at Carnegie's Plant Science department. They secured and built a state park, where they were both volunteers. When I joined the team in 2003, he officially translated my German documents and supported my green card and citizenship applications. He was always excited to show me his latest results, e.g., the discovery that bacteria also have blue light receptors. After a destructive wild fire in his park, he became excited about the new life that came up after the fire. Shortly after he showed me that he had convinced a chemist to produce several grams of the 'fire hormone' karrikin. His latest work at over ninety on the effect of light on root nodulating bacteria will likely have a major effect on agricultural practice and soybean yields. He always helped me with critical decisions when I ran the department. We miss him so much….   
---
Arthur Grossman, Senior Staff Scientist, Carnegie, 1982-Present
agrossman@carnegiescience.edu
It is a pleasure and honor for me to write some of my thoughts about Winslow Briggs; they reflect my friendship with him for over than 35 years. Winslow hired me in 1982 as a Staff Member in the Carnegie Institution's Department of Plant Biology. When I came to interview, I felt that the Carnegie job was the 'gem' of that year, but I didn't think that I had a chance at it (and I wouldn't have except that Sharon Long, who also interviewed for the job, accepted a position at Stanford). I did ultimately get the position, and Winslow called me on the phone to tell me. One of the early conversations we had was about startup funds; he told me that he had 25 k for start up but that I shouldn't worry because he would manage to get me anything that I really needed. Being somewhat in awe of Winslow and feeling an absolute trust for anything that he said, I didn't even consider negotiating… and there was no need to negotiate because he always managed to unearth extra funds whenever I had a need for additional equipment or supplies. Not only did he make sure that I received the necessary resources, but he also provided enormous moral support… he was a fabulous confidence builder. We had a joint lab meeting for many years and in discussing my inclination to make wayward excursions into a number of different scientific fields, he would always say 'I have absolute faith in your scientific intuitions… and this is exactly what staff members at the Institution are expected to do.' After a while I began to imagine my wayward orientation to be a positive attribute and not just the attitude of a dilettante (which some others may have thought). But this wasn't a one-sided interaction and there were many times when I would walk by Winslow's office to say hello, and he would say 'Do you have a minute. I have something to show you.' And he would take out his latest experiments (on phytochrome responses, the mechanism of phototropin, the function of smoke in the succession of forests after a fire) and two hours later we would still be looking at the data and debating its meaning. These discussions were spontaneous, generous, uninhibited and provoked both of us to shape, dismiss and remold the findings recorded on loose sheets of paper, spread sheets and computer images into potential pathways and mechanisms. 
I cannot do justice to Winslow and his impact on others by just talking about his interactions with me. He led the Department of Plant Biology with a soft and yet a determined hand. He always tried to generate consensus, he never let faculty meetings go for more than an hour (the Briggs' rule), he never dominated discussions, he considered scientific quality and innovation of primary importance and he always protected the faculty from administrative burdens. While the Carnegie Institution itself has a hierarchical structure, that structure was diffuse in the capable hands of Winslow. The number of students, postdocs, collaborators and visitors that passed through Winslow's sphere of influence and who were profoundly impacted by his intellect, enthusiasm, support and generosity of spirit was enormous. His influence extended into various aspects of life; he was a master at the piano (and almost became a professional pianist), he climbed some of the highest mountains in North America, he and his family roamed the Sierras for weeks at a time and developed friendships with some unique characters who often seemed to have a profound sense of humor (such as the English water color artist Tony Foster), he was a ranger in Henry W. Coe State Park, he was a lover of the bad pun and cooked a 'mean' Peking Duck. Winslow was the consummate renaissance man, but with the erudition of modesty. 
---
Rainer Hertel, Collaborator, 1973-1984
Professor Emeritus, Faculty of Biology, Albert-Ludwigs-Universität, Freiburg, Germany    rainer.hertel@biologie.uni-freiburg.de
In 1960, coming from Germany as a first year Ph.D. student with Carl Leopold at Purdue, I met Winslow Briggs during a Plant Phys.Congress. I was deeply impressed when an established, famous scientist offered such detailed, friendly advice - concerning gravi-effects on auxin transport - to a young beginner. 
We kept contacts, and in 1973/74 Winslow decided to spent a Guggenheim-Sabbatical in my Freiburg lab where – in collaboration with Al Jesaitis, Pat Heners-Reau and Ulrike Dohrmann – we characterized a plasma-membrane cytochrome b (Plant Physiol 1977 59:941) and a flavin binding site on membrane vesicles (Planta 1980 147:312) 
1981/82 I had a wonderful, exciting sabbatical in the Briggs-lab at the Carnegie Institution Department of Plant Biology on the Stanford Campus. Together with Terri Lomax we discovered and analyzed an in-vitro auxin transport in Cucurbita membrane vesicles (Planta 1983 157:193). My wife and myself will never forget the hospitality of Winslow and Ann and the splendid natural environment – experienced through their expert guidance.
Whenever Winslow Briggs returned to Freiburg – e.g., in 1983/84 with a Humboldt-Fellowship in Eberhard Schäfer's lab - we again had so many scientific and personal interactions, also between our families. And then our faculty made Winslow an "Ehrendoktor", Dr.hc. 
Today several places around here remind us of Winslow: his lab bench, 3rd floor north, where he pipetted; our piano, where he played wonderful classical music; the houses in Freiburg-Wiehre, where the Briggs-family lived during the two sabbaticals, and – last, not least - Winslow's hiking trail from town up to the Black-Forest-Brombergkopf.
---
Rajnish Khanna, Carnegie Fellow Scientist, 2012-2019, Senior Investigator, Carnegie Institution of Science, Department of Plant Biology
Founder & CEO, i-Cultiver, Inc. and Global Food Scholar, Inc. rkhanna@carnegiescience.edu
I will forever be grateful for the opportunity to work with Winslow R. Briggs (1928–2019) on several different projects from the very start of my scientific career. I was introduced to Winslow in 1988 by my research advisor, Jitendra P. Khurana. The research collaboration with Winslow continued throughout my Ph.D. work in John C. Watson's lab and postdoctoral work with Peter H. Quail. During my tenure at Mendel Biotechnology, located in the Bay Area, I worked on a photobiology related project and maintained my communication with Winslow. In 2012, I joined Winslow's lab (intended for one year) and never left, regardless of funding availability since I was able to fill the gaps myself. 
Winslow's enthusiasm for scientific discovery, including in adventurous directions, was contagious. He taught me never to leave any stone unturned. I felt very comfortable discussing the farthest of ideas with him. He was a patient listener with a witty sense of humor. Working directly with Winslow in the last seven years, we started several new projects, which are all currently ongoing. These projects included the commercial development of a LOV-protein related product for application in legume production. Winslow had become an entrepreneur and in 2018 we started field trials in a collaboration with Roberto A. Bogomolni. Winslow's guidance in developing treatment protocols was critical in the success of these field tests. I would look forward (at least twice a week) to having lunch together on the wooden benches at Carnegie to discuss science, life, the universe, art and recipes for spicy sauces and dishes. This is forever accessible in my memory to uplift me at any time.
---
Marta Laskowski, Graduate Student, Stanford University, 1985-1990
Professor of Biology, Oberlin College
mlaskows@oberlin.edu
Winslow was an awesome scientist and a fantastic mentor who had a real talent for walking the line between training and support. He was detailed where it mattered, bringing incredible care to experiments, to the wording of conclusions and the manner of presentation. His wisdom made me a better scientist and communicator. Winslow was generous by nature, and this extended even to authorship, a currency that scientists prize. When, as a graduate student, I brought him what was probably my most important manuscript to date, he took a generous, and highly unusual, approach and told me that I should be the sole author.  His egalitarian spirit supported everyone he interacted with: the faculty and staff at Carnegie; the jays that he would feed while eating his lunch outside with whomever cared to sit and talk with him that day, and even the plants at Henry Coe that he mapped, studied, and protected. Winslow was an early feminist. He brought many female graduate students and postdocs into his lab, and supported and championed all of us so well that I never once thought that my identity as a woman was an issue. When my first faculty position turned out to be less welcoming, Winslow came out to visit. He was visibly angry, on my behalf, and helped me find my way to a new position at Oberlin College, which has been a great fit and provided me with an opportunity to enjoy both research and teaching. I have come to think of Winslow as a second father and it is a real joy to celebrate his memory. 
---
Dina Mandoli Russell, Graduate Student, Stanford University, 1978-1982
Founder, Plant Share LLC Dina.mandoli@gmail.com 
Dina@plant-share.com   
I joined Win's lab when he was Editor in Chief of the ARPB. He was stressed and overcommitted; someone actually taped a sign on his door that read, "What is it about the word NO that you just don't understand?" 
Winslow covered my first manuscript in so much red ink that it looked like the paper was bleeding. He said "It's a good start" and made me rewrite it. 10 times. "Arggh."  At the end of this ordeal, I needed a title, but he was traveling and harried. So I wrote a checklist titled "Pick one:…" followed by serious titles, but mostly inane and stupid options, and stuffed it into his overflowing inbox. After deciphering my tiny handwriting, he came upstairs to my office (shared with Peter Quail), and chortled "Goofball!"  
Thereafter, I cracked his Boston Brahmin shell unremittingly with pointed statements and my weird and irreverent sense of humor. 
Winslow's relentless pursuit of science was joyous in part because it was shared. He loved shared humor. His finger on the side of his nose, he'd rejoin with his unique chortle and a bad pun. He loved shared pursuits intellectual, culinary or outdoor. He loved puzzles unraveled with others and discovery created in a lightening flash between minds.  Science shared was his way of expressing love – for someone's mind, ideas, and thought processes.  
English has only one word for love. Winslow 'loved' his friends, colleagues and students in all the myriad ways no single word can adequately express. I cannot speak for anyone else, but I can imagine the look on his face if he were here; his look whenever I said something so blunt, frank or irreverent as to crack the dam of his emotions. He would suddenly relax and quietly say, "You're right".  I hope that I am for that is true nobility and Winslow was truly noble. 
---
 David C. Nelson, Postdoc, Carnegie, 2011-2012
Associate Professor of Genetics; Dept. of Botany and Plant Sciences; UC Riverside
david.nelson@ucr.edu
Winslow loved nature. Whether mountaineering in Alaska, backpacking the high Sierras with family, or volunteering at Coe State Park with Ann, Winslow was in his element outdoors. In 2007, disaster struck as half of Winslow's beloved Coe State Park burned in the Lick Fire. But in its aftermath, nature rebounded and Winslow became fascinated with the regeneration process. As long-dormant species sprouted and burst into bloom, Winslow was there, documenting the transformation. Two years later (after the fire in Coe State Park), I met Winslow on the bank of the Ala Wai Canal in Honolulu, having just heard his talk about post-fire recovery of plants. Despite the sweltering heat and humidity, we had an inspiring conversation about our mutual interest. Winslow later invited me to continue my research on smoke-induced seed germination in his lab. That year was a formative experience, as Winslow set a standard as a scientist and a mentor to which I continue to aspire.
 
Belying his formidable accomplishments, Winslow was approachable and humble. Rank or experience did not matter – a curious mind was all that was needed for a seat at the table. At conferences, Winslow could reliably be found among the posters, talking to students about their work and sharing advice. At Carnegie, he would issue a near daily invitation to the lab, and his friends Bill Eisinger and Roberto Bogomolni, to meet for lunch. Having convened at the splintering table in the courtyard, we would discuss our research, but Winslow would also share stories about his past adventures, travels, and career. He was a master storyteller, who particularly loved a good joke. Winslow taught me the importance of slowing down and enjoying the human connections we make in science, which are sometimes overshadowed by the relentless drive to accomplish more. He also showed me how to offer encouragement, criticism, and the space trainees need to grow. Despite his keen-eyed editing, however, he failed to successfully cure my split-infinitive habit.
---
Carl S. Pike, Graduate Student, Harvard University, 1967-1971
Huffnagle Professor of Botany, Emeritus, Franklin and Marshall College
carlpike73@gmail.com
Winslow Briggs was an exceptional teacher and mentor to me as both an undergraduate and graduate student, and to many others as well.
In my junior year at Yale, Winslow gave lectures in a developmental biology course.  I was captivated by the topic of phytochrome and by the clarity and enthusiasm of his presentations and the careful tracing of the lines of experimentation.  
So in the fall of 1967 I was excited to join Winslow as he established his lab at Harvard.  Of course Winslow was an exceptional research mentor.  Likewise, he supported my interest in teaching both in formal courses and as a House Tutor.  In that role I organized my own seminar courses.  I learned from Winslow how to guide students in the craft of careful and critical reading and discussion of journal articles.
One story about Winslow as a teacher is well-known among his graduate students who attended his introductory plant biology class.  Hearing his lucid and well-organized lectures, we fully expected that his notes would have all the details, experimental data, etc. carefully laid out.  So, when we had an opportunity to sneak a look at the notes, imagine our surprise to find that they were minimal – just a few words about the topic, and then "Yak". Winslow excelled at "Yakking".
In addition to modeling my own lectures on his, I endeavored to pass along to my students Winslow's emphasis on clear and precise writing.  
Winslow encouraged my interest in a position at a research-oriented undergraduate college, and I joined the faculty at Franklin and Marshall College directly after graduate school.  Whenever my students presented posters at national meetings, Winslow made it a point to engage them in conversation about their research.  They truly valued his encouragement and enthusiasm.
---
Peter Quail, Senior Fellow, Carnegie, 1977-1979
Professor Emeritus, Plant & Microbial Biology, University of California, Berkeley
quail@berkeley.edu
I first met Winslow at a photobiology meeting (the Annual European Symposium on Photomorphogenesis) in Eretria, Greece, in September 1971.  I had just joined Hans Mohr's lab, as a postdoc, in Freiburg, Germany, excited about plunging into the field of phytochrome photobiology, a new direction for me.  Being able to join the other members of the Mohr group in attending this premier meeting in the field so early, was an unparalleled opportunity and a formative experience.  I was taken by Winslow's thoughtful questions and constructive comments during the discussions, and was mesmerized by his presentation there.  He and his graduate student, Gary Gardner, had been purifying the phytochrome molecule, and had made a breakthrough in obtaining the highest quality preparations known at that time.  Winslow's talk triggered a desire in me to use my biochemical experience to pursue the open question of phytochrome's molecular mechanism of action, a path that I followed for the remainder of my research career.
During the course of that journey, I came to appreciate Winslow as a wonderful mentor, colleague, friend and human being, always ready to provide wise counsel and help for others.  The most pivotal and personal example of that came later for me, when he offered to take me into his lab for a transitional period, while I looked (successfully) for a faculty appointment in the U.S., following a period back in my native Australia.  Winslow's thoughtful guidance during that period was invaluable, and I was able to learn both the art of phytochrome purification, and the procedures for antibody production (during a short intervening time in Lee Pratt's lab in Nashville).  Both these skills were critical in the subsequent development of my independent research program.
In addition to science during my time in Winslow's lab, I came to experience and admire so many sides of him as a person.  Apart from being an internationally renowned researcher and eloquent author, he was a true scholar and a gentleman, an adventurer and a naturalist, an accomplished concert pianist and skilled Chinese cook.  But above all, he was wonderful human being, whose contagious passion for science, humility despite eminence, and care, support and respect for others, inspired so many of us.  His warm friendship and mischievous wit is greatly missed.
---
Philippe Reymond, Post-Doc, Carnegie, 1990-1992
Professor, Dept. of Plant Molecular Biology, Universty of Lausanne, Switzerland
philippe.reymond@unil.ch
It is no secret that Winslow loved to cook- and to eat. On my first day as a postdoctoral fellow joining the Briggs lab in January 1991, I was invited to a party Winslow organized at his house for lab members and friends. The abrupt transition from a cold and snowy Switzerland to the postcard-like sunny and palm-tree decorated California was amplified by the long journey and excitation to meet my new mentor. A warm and friendly welcome dissipated my anxiety, which completely vanished when I was offered cheese fondue, an annual tradition which Winslow was proud of! Needless to say, as a Swiss citizen I was particularly scrutinized by the whole group, waiting for a comment that would set Winslow's position on the scale of Swiss cuisine. Full of misconceptions about the New World's junk food and lack of culture for "real" food, I had to humbly acknowledge that this cheese fondue was excellent! A cheerful Winslow got relieved and my introduction to his world was completed. I should have known that Winslow excelled in all he was cooking, as I experienced later during many joyful dinners at his place where he treated us with superb dishes from all over the world, with a preference for Asian delights. This passion and curiosity for cuisine was paralleled by the same attitude towards science. I will always remember his recurrent morning visits to the lab, sparkles in the eyes, asking about new findings. As a PI, he had of course the tendency to forget that it takes time to do experiments, but his love for research was so intense and communicative that we did all we could to show him some incremental progress in our work. This was the best mentoring I could imagine as a young postdoc, and I have tried to behave the same ever since during my own career.
---
Eberhard Schäfer, Collaborator, 1973-1984
Professor, Institute of Biology II (Botany / Plant Physiology), University of Freiburg
eberhard.schaefer@biologie.uni-freiburg.de
Winslow Briggs: a great mentor and friend.
At the famous 1971 phytochrome meeting in Greece I met Winslow for the first time. Then came his first sabbatical in 1973\74 in Freiburg where we had almost daily contact because he used the new spectrophotometer in my laboratory for his measurements of light induced absorbance changes. From there on we met every year at least once at conferences, at Carnegie, or at Freiburg. I had a wonderful sabbatical at Carnegie working together with Moritoshi Iino as a slave and stayed at Hale Street for three weeks to look after the Briggs animals, during the time Winslow, Anne, and Marion were hiking in the Sierra. 
Winslow then stayed twice for a full year in my lab on Sabbatical- or working as a postdoc for me! It had been wonderful experiences for me, my family, and also my laboratory members.
I loved Carnegie and Palo Alto, he loved Freiburg, so we visited us very often, stayed overnight at the homes and had long discussions over glasses of good wine or cognac, clearly always after a good meal. Nobody will forget Winslow's Chinese dinners.
But it was not only science and cooking which connected us – we both loved science and good eating - but it was also the respect for other people, animals, and plants. So the Schäfer family made two backpacking trips with parts of the Briggs family to the Sierra and we spent also a week hiking in the Alps together. So it's not too surprising that this established a long lasting friendship between us, including our wives and the Briggs daughters and my son Andreas. 
We talked and discussed about science many, many hours but we agreed there is also something beyond science learning to relax. All this together was / is the basis of our and the Briggs/Schäfer family friendship over so many years and we hope that it will continue.
    
---
Tom Scott, Graduate Student, Stanford University, 1956-1960
Professor Emeritus, Dept. of Biology, Univ. of North Carolina, Chapel Hill
tscott@live.unc.edu
One October day in 2007, I was in California on business. I made the usual connection with Winslow at Stanford. As usual I had dinner with Win and Anne. Win brought up the idea of doing a very steep hike to see the condors in the mountains south of San Jose. The very next day we were off to see the condors. We climbed up pretty high on the mountain for about three hours and had our packed lunch on an open area. We had barely taken a bite when a single condor flew over our heads at a close range. WOW! We were not thinking about it or prepared to see the bird and what came after. We saw another go by as we were groping for our cameras. Very few minutes, single and double condors kept flying by. We just had time to grab our cameras and shoot the remaining birds flying over our heads. In all, we must a have seen 10-12 condors flying above us. What a thrill. What an unexpected thrill! We each got fairly good pictures of the condors.
---
Jim Shinkle, Graduate Student, Stanford University, 1980-1985
Professor, Department of Biology, Trinity University, San Antonio, TX
jshinkle@trinity.edu
Winslow gave credit to Dina Mandoli for the phrase "reagent grade darkness" but he was an enthusiastic advocate of the principle and practice.  Some where along the way, a member of the Freiburg group (I can't track down who) began referring to Winslow as the "Dunkelverwalter" (dark administrator).  Winslow enjoyed the joke.  The title resurfaced at Winslow's send off for his von Humboldt sabbatical.  He was presented with a blindfold with "Dunkelverwalter" emblazoned across it.  By Winslow's telling, and he was a consummate storyteller, he maintained his strict standards while doing experiments in Germany.  That is, all but once.  A labmate opened the growth room door while Winslow was harvesting dark-control tissue.  The results came back showing deviations from Winslow's usual dark control values.  Winslow declared that this magnitude of difference from true dark controls should be called one Egon after Egon Mösinger, the colleague who opened the door.  The Dunkelverwalter had the last laugh.
---
Timothy Short, Graduate Student, Stanford University, 1986-1991
Associate Professor of Biology, Queens College of CUNY
timothy.short@qc.cuny.edu
It is hard to imagine a more perfect mentor for a naïve Stanford graduate student than Winslow Briggs. His brilliance as a scientist is undeniable, yet he remained uniquely humble and inspiring as a teacher with seemingly limitless kindness, patience, and humor. Winslow's rarity was exemplified by his eagerness to join me in harvesting seedlings for phosphorylation assays of
what turned out to be the phototropin photoreceptor. He frequently chose to set aside his duties as Director of the Carnegie Department of Plant Biology, editor of Annual Reviews of Plant Biology, recipient of a continuous stream of correspondence and speaking invitations, and a thousand other draws on his time, just to spend hours standing in a cold room under "reagent grade darkness" cutting pea epicotyls with me, a mere pre-doctoral mentee. Apart from exchanging outrageous puns during these harvesting marathons, we also discussed my latest experiments and approaches to exploring this new putative blue light receptor, recently published manuscripts, and upcoming conferences. Often, our discussions would continue into our three-times-a-day tea breaks. He gave me free rein to try new experiments – and to fail. At every conference he would remind me that one could always find value in another's experiments, even while evaluating the work critically. The lesson Winslow was teaching me was that I was a colleague rather than an underling.
Aside from demonstrating through example what it means to be a rigorous, ethical, endlessly inquisitive scientist, Winslow was a true friend. From our removing stands of poison oak in Henry Coe State Park—where he was active in conservation and research for decades—to enjoying fellowship at his nine-course Chinese banquets, to contemplating his love of art, nature, and music, Winslow was irreplaceable and irrepressible. I will always celebrate my memories of Winslow Briggs and his family.
---
William F. Thompson, Postdoc, Harvard, 1970-1972; Staff Member, Carnegie, 1976-1986
Distinquished University Professor, Plant and Microbial Biology, NC State, Raleigh, NC
wftb@ncsu.edu
A Short Remembrance of a Long Association
My association with Winslow Briggs began while I was still a PhD student, sometime in the summer of 1969 or 1970. Winslow and family were vacationing while traveling from Stanford to Harvard by way of Seattle. One morning Winslow and a six-day growth of beard appeared in the Cleland lab, where I was finishing my degree, joking and talking science in a fun-loving way I hadn't yet experienced from other faculty members. It was soon arranged that I would come to Harvard as a postdoc. I don't recall considering any other alternatives. 
Later, after I had become an Assistant Professor at the University of Massachusetts, Winslow was named Director of the Carnegie Institution's Department of Plant Biology. Returning to Stanford to take up the appointment, he offered me a job as a faculty member. Again, I didn't bother to consider any other options. And I stayed for 12 years.
What I remember most about working with Winslow is that it was fun. Winslow was one of those rare individuals who could be a thoroughly nice guy, fun loving, enthusiastic, and generous to a fault, but somehow still be at the cutting edge of modern science. His sense of humor was infectious, and his puns atrocious. There are a million stories of practical jokes, humorous accidents, and just plain hilarity, all side-splittingly funny. As a small snapshot, just from my two short years at Harvard, there was the famous telegram: "DEAE WORKED – STAY IN ISRAEL." Elephant farts. Waterfalls on the stairs from 50-gallon brushite preps. Friday afternoons when John would fill the Sorvall with beer. And many more.  
The thing is, chemistry happened. All that fun was intertwined with great science. The tradition continued at Carnegie, where Winslow showed by example how great science and great humanity go together, how great science is always a team effort, and how joyful it can be. I think that's the secret – take joy in what you do, and joy in those who do it with you. That, together with the fact that he was just plain brilliant, is why I think Winslow Briggs was such an extraordinarily successful contributor to the science and community of Plant Biology. 
---
John Verhoeveen, Park Ranger and Friend, Henry Coe State Park Park Ranger, Henry Coe State Park
jverhoeven01@gmail.com
Winslow and Ann volunteered at Henry W. Coe Park for many years and one way Winslow shared his love of the park was with interpretive programs. The Wonders of Coe Park was one such program he would give as an evening slide program.
Wonders of Coe Park allowed Winslow to guide your mind to a broader vision of where you were. Slide one shows a common sight at Coe, a lofty ridge with pine trees called Blue Ridge. The Ponderosa trees atop the ridge were likely remnants of a much larger population from a cooler era in history. Now isolated to high ridges.
Next, a slide of Middle Ridge, showing several plant communities including Oak Savannah, Chamise stands, and other chaparral plants. Winslow identified what was what and the water needs for each group of plants. Suddenly I could imagine where there is water on a slope at the park. Perhaps even where there might be a fissure just below ground directing the water downward and supporting a California Bay tree forest.
Next slide, we see a shot of the northeast side of Cordoza Ridge. This slope has a dense forest of leafy trees. This side of the ridge has more water due to its geography. What stuck with me was when Winslow pointed out the red color cast that was in the photo. The red was from the new Oak leaves that were capturing extra sun and had not turned green yet to do their main task.
In just three slides, Winslow profoundly changed the way I see a small portion of Coe Park. What I can see now goes beyond the easily observable and allows my imagination to experience not only how Winslow saw the world, but elegant processes that are happening all around us. Thank you, Winslow.
---
Katherine (Kate) Warpeha, Postdoc, Carnegie, 1991-1992
Assoc. Professor, Dept. of Biological Sciences, University of Illinois at Chicago
kwarpeha@uic.edu
I was in frequent contact with Winslow from the last year of my PhD, during my tenure as a Carnegie Fellow in his lab studying blue-light induced phosphorylation, and while I worked in Europe. Upon return to the US in 2002, we saw each other more often and whenever at a Conference, we would meet for dinner. If I was in the Bay Area, he insisted I stayed at his house and with his wife Ann, had lively conversation. We would go hiking and discuss experiments, and he and my son would speak Japanese and play piano together. Winslow was always supportive of my work and asked good questions and provided new perspectives. One thing I miss are his written letters—we would write each other approximately every two months, 2-3 page letters. Of course, with my letter I always included black licorice, "the liver of the candy world" as he was fond of saying. He had a great joy of life and eating excellent memorable foods. One memorable dinner with Gary Gardner in Texas we went to a Japanese place and I had the best dinner I ever had in the US, and tried 6 kinds of sake. I have been most fortunate to have known Winslow as a mentor, an amazing intellect, and like a beloved relative. 
---
Burke Zimmerman, Graduate Student, Stanford University, 1959-1962
Expert, National Defense University, 2007-2012
burke.zimmerman@gmail.com
Winslow and I became close friends from the beginning of my graduate studies (1959), which soon extended into many dimensions beyond science. Hiking with Winslow in the wilderness, one was sure to experience a fascinating tutorial on the marvels of the local flora and fauna. His knowledge of all life forms was vast, and I was especially intrigued by his recent studies of how seeds germinated following a wildfire after being dormant for decades.
One afternoon, while Winslow and Ann, his wife of 60 years, and my wife Elizabeth and I were birding along the wetlands of San Francisco Bay, he took me aside, somewhat solemn-faced, and told me that Ann was having memory issues that seemed to be progressive. This marked the beginning of a significant change in Winslow's life to become Ann's primary caretaker. As one of the most caring and giving people I have met, he was always there for her as the dementia began to steal away her scintillating vibrancy. Among his many talents, Winslow was a gourmet cook who delighted in providing a superb repast for his guests; with his continuing support, Ann could still play the gracious hostess.
Shortly before his death, Winslow offered to have my wife and I stay overnight at their house prior to Elizabeth's date with a surgeon at 6 AM for a shoulder replacement. On the eve of the surgery, he prepared an amazing dinner --- rack of lamb, asparagus with his hand made hollandaise sauce and all good things to go with it. It was a memorable evening, made possible by Winslow's unquenchable enjoyment of life.