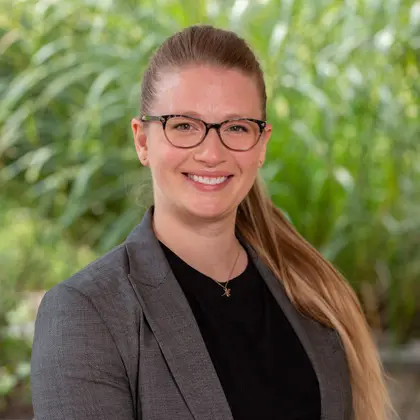 Washington, DC—Carnegie mineralogist Shaunna Morrison has been selected for the American Geophysical Union's Ronald Greeley Early Career Award in Planetary Sciences, which recognizes significant contributions from researchers within six years of receiving their Ph.D.
Morrison combines her expertise in crystallography and crystal chemistry with cutting-edge machine learning and data visualization methods to advance the field of mineralogy in new directions. Her work improves our understanding of how planetary materials interact over deep time, shaping the emergence of new minerals, and particularly how Earth's mineral richness co-evolved with life.
As a co-investigator on NASA's Curiosity Mars Rover mission, Morrison applied her expertise to predict the location of previously unknown mineral deposits and Mars analog environments on Earth, and to uncover mineralogical signs of life.
Presented annually, the Greeley Award is named in honor of a prolific planetary geologist who trained and mentored many early career researchers during his lifetime.
"Shaunna came to Carnegie ready to hit the ground running on exciting new research questions, and make major contributions to our scientific ecosystem, where bold and creative pursuits are prized," said Earth and Planets Laboratory Director Michael Walter. "Congratulations to her on this well-deserved recognition of her accomplishments."