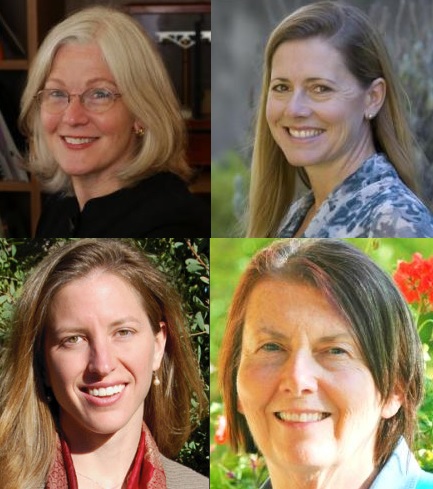 Stanford, CA— Four additional members of Stanford University's faculty have been named Honorary Adjunct Staff Scientists at Carnegie's Department of Plant Biology. Stanford's Dominique Bergmann has been a Carnegie adjunct since 2011, and the newly added adjunct staff brings the total number with this honorary title to five.
"For decades, Carnegie has shared not only ideas, but also access to equipment and mentorship of bright young scientists with our Stanford neighbors," said Carnegie President Matthew Scott. "We felt it was an appropriate time to formalize this relationship with positions that offer greater opportunities for immersive collaboration."
All four of the new honorary staff members were already working closely with Carnegie's plant biologists, so the additional affiliation was a good fit to further their integration into the Carnegie Plant Biology community.
Tim Stearns, chair of the Stanford Biology Department said: "These honorary appointments will help strengthen the ties between our two departments, and further our joint goal of raising the overall profile of plant science on campus." 
The new adjuncts will be invited to the department's retreats, to speak in Carnegie's faculty seminar series, and be granted access to Carnegie's imaging facility, along with other specialized equipment.
"With the addition of these four stellar Stanford faculty members as honorary adjunct staff, we have not only increased the breadth of our science, but also the diversity of our staff scientists," said Carnegie's Director of Plant Biology Sue Rhee. "Eight of the department's 16 staff members are now women! I don't know of any plant research group in the world today or in the past that can boast this level of representation of women scientists."
The new Adjunct Staff Scientists are:
Sharon Long, professor of Biology, who studies the biochemistry, genetics, and cell biology of symbiotic relationships between plants and bacteria.
Mary Beth Mudgett, professor of Biology, who studies the biochemical mechanisms bacterial pathogens use to hijack plant physiology during infection.
Elizabeth Sattely, assistant professor of Chemical Engineering, who studies plant metabolism, specifically the production of energy rich biopolymers and other biologically active small molecules—some of which have clinical uses or energy applications.
Virginia Walbot, professor of Biology, who studies how plant reproductive cells acquire and maintain their fates.