Washington, DC—Michael Gellert, co-founder of investment vehicle Windcrest Partners who oversaw a decade of major institutional initiatives as the Chairman of Carnegie's Board of Trustees, died August 17. He was 90.
"Warm, witty, and sharp, Michael Gellert was a major figure in finance, science and philanthropy. For more than two decades, he provided leadership and counsel, and laid the groundwork for a second century of scientific achievement at our institution. The effects of his extraordinary generosity will continue to ripple through many generations of Carnegie scientists," said President Eric Isaacs. "He will be greatly missed, both by me personally and by our entire Carnegie community."
Gellert was introduced to Carnegie by the late Bill Golden, an icon of American science policy, and joined the Board of Trustees in 1995, where he served until 2018, when he became an emeritus member. He is one of the largest donors in the institution's history, supporting many projects and initiatives that span the breadth of our research. 
He was elected Chair in 2003 and served in that position for 10 years, leading the institution through the financial crisis. Despite this period of uncertainty, Gellert strengthened Carnegie's ability to make an impact in several key scientific disciplines.
He shepherded the growth of the just-launched Department of Global Ecology in Palo Alto and ensured the institution's ability to construct the Maxine F. Singer facility for biological research in Baltimore. This commitment to the life and environmental sciences positioned Carnegie researchers to affect the national and international discourse around the greatest challenge facing humanity today—climate change and its impacts on Earth's dynamic cycles and fragile ecosystems.  
Gellert also played a leading role in Carnegie's founding commitment to the Giant Magellan Telescope, which is under construction at our Las Campanas Observatory in Chile. With 10 times the resolution of the Hubble Space Telescope, this revolutionary instrument will enable breakthrough research in cosmology, astrophysics, and planetary science.
"Mike's leadership was foundational to the creation of the GMT," said President Emeritus Richard Meserve, whose tenure coincided with Gellert's. "He understood how crucial early investment is to the success of such a long-term high-risk project, even knowing that he might not see its completion in his lifetime."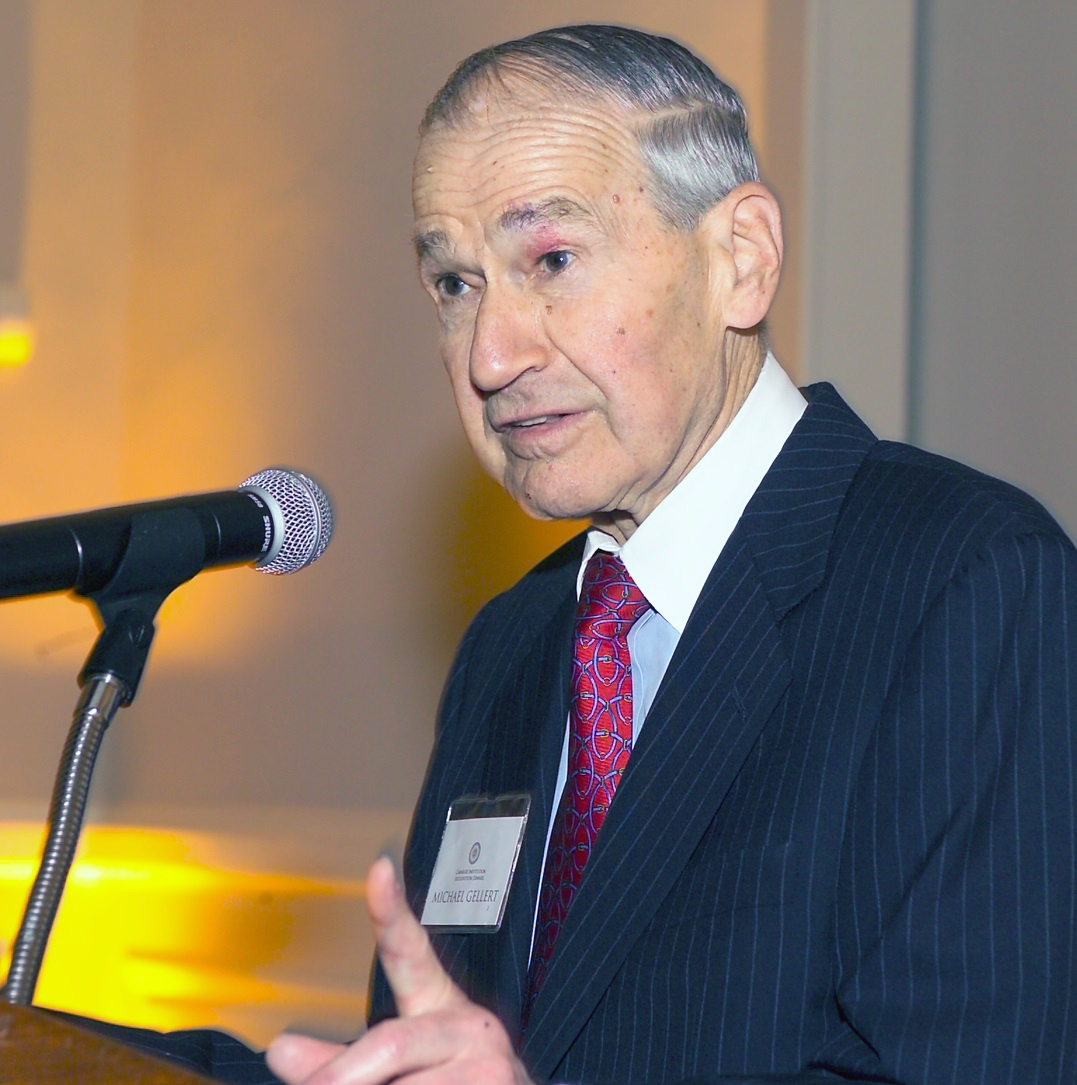 Born in Prague in what was then Czechoslovakia, Gellert immigrated to the United States where he graduated from Harvard University. He earned his MBA in finance from the Wharton School at the University of Pennsylvania following two years of military service in the U.S. Army.
For more than four decades, Gellert worked in various executive capacities at Drexel Burnham Lambert and its predecessor companies in New York. During this period, he also co-founded Windcrest as a venture capital and private equity investment firm that specialized in energy, entertainment, healthcare administration, and internet technology.
His deep dedication to philanthropy involved board service at a variety of organizations including Human Rights Watch, the New York City Opera, the Caramoor Center for Music and the Arts, New School for Social Research, Roosevelt House, Handel House Foundation of America, and the Social Science Research Council. 
In 2000 he was recognized by the American Academy of Arts and Sciences, which elected him a Fellow. In 2015, he was awarded the Harvard Medal for his work on the Harvard Club of New York's Board of Managers and other alumni affairs.
 "His role at Carnegie was never about himself," concluded Suzanne Nora Johnson and Stephen Fodor, who succeeded Gellert as Co-Chairs of the Board.   "It was always about advancing the good of the institution and quality of the science inside the institution."