Washington, D.C.— NASA's JWST has given a team of astronomers—including Carnegie's Peter Gao and Anjali Piette—the closest-ever look at a planet, Gliese 1214 b, which has been vexing scientists with its opaque atmosphere for more than a decade. Their work reveals a highly reflective world with a steamy atmosphere.
The new observations—which are published in Nature and The Astrophysical Journal—could open the door to deeper knowledge of the most common type of planets in the Milky Way galaxy. Larger than Earth and smaller than Neptune, these sub-Neptunes have been spotted orbiting more than half of known Sun-like stars. But they aren't found in our own Solar System, raising questions about why the arrangement and architecture of the planets orbiting our Sun is so unusual.
"Astronomers are very interested in learning more about sub-Neptunes, particularly what their formation and evolution can teach us about our own Solar System's history," explained Gao, lead author on the paper published in The Astrophysical Journal. "Until now we have struggled to gather much information about their atmospheres, which have been difficult to observe. JWST is enabling big breakthroughs in understanding these mysterious planets."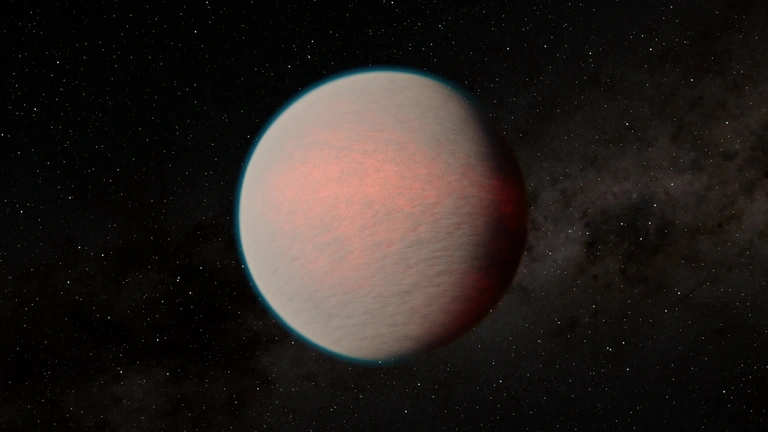 Because of its short orbital period and relative proximity to Earth, GJ 1214 b has been studied frequently. But astronomers have had no luck in investigating its atmosphere due to a blanket of thick clouds and hazes. However, JWST's infrared capabilities allow researchers to penetrate previously opaque objects.
In the two papers, the researchers took complementary approaches to probing GJ 1214 b's atmosphere. First, they created a kind of "heat map" of the planet throughout its orbit. As day turns to night, heat travels from one side of the planet to the other, and the extremity of this shift is determined by its atmospheric composition. Revealing the details of this temperature change enabled a new understanding of GJ 1214 b's makeup.
The researchers also looked for the fingerprints of specific molecules, such as water, in these heat maps. Different molecules leave distinct signatures in the observations, revealing new information about the composition of the atmosphere. The researchers looked for these fingerprints on both the dayside and nightside of the planet, finding tentative evidence of water vapor in both hemispheres.
The researchers then compared these findings using the more traditional method of studying the light from the host star that is filtered through the planet's atmosphere. This enabled them to better constrain the composition and properties of GJ 1214 b's hazes.
"Taken together, these techniques confirm never-before-seen details about the composition of GJ 1214 b's atmosphere, which can help us understand its formative history and perhaps, more generally, the enigmatic sub-Neptune class," said Piette.
The researchers revealed that the planet's atmosphere is made up of heavier molecules, such as water or methane—which look similar to each other in the eyes of JWST's MIRI instrument—not lighter hydrogen.   
"This is not a primordial atmosphere," said Eliza Kempton of the University of Maryland, lead author on the Nature paper. "It does not reflect the composition of the host star it formed around. Instead, it either lost a lot of hydrogen, if it started with a hydrogen-rich atmosphere, or it was formed from heavier elements to begin with–more icy, water-rich material."
The findings also suggest the planet might have formed farther away from its star, then spiraled gradually inward to its present, close orbit, which takes only 1.6 days.
Further observations will be needed to pin down more details of GJ 1214 b as well as the formation histories of other sub-Neptunes. While a watery atmosphere seems likely for this planet, the authors caution that a significant methane component also is possible.
These findings represent one of several JWST science and instrumentation teams involving Carnegie scientists. Carnegie and Carnegie-affiliated astronomers are leading six JWST projects—including an investigation of the atmospheres of a mysterious type of planet called super-puffs led by Gao.