Annual Report
2020
Fiscal Year July 2019 - June 2020
A Message from Our President
For more than a century, the Carnegie Institution for Science has pursued our mission of discovery, seeking to expand humanity's understanding of the natural world and the universe. We seek out and support brilliant researchers who approach their work with exceptional boldness, independence, and insatiable curiosity, and we provide them with the tools and flexibility required to ask—and to answer—some of the biggest and most significant scientific questions of our age.
Today, the nature of science is changing around us. Increasingly, forefront science requires both individual researchers and diverse teams who use world-class equipment and facilities and work across disciplinary boundaries to expand our understanding of matter, life, Earth, and the universe. To remain at the vanguard of discovery, the Carnegie Institution for Science is evolving with the scientific enterprise and taking thoughtful, deliberate steps to strengthen our structure, extend our influence, expand our expertise, and ensure our institutional health and independence in the years to come. By implementing a new, comprehensive plan for the future of Carnegie Science, we are ensuring our ability to continue and strengthen our world-leading research.
Our first step has been to bring our scientists together under three new divisions, focused on astronomy and astrophysics, Earth and planetary science, and life and environmental science. These divisions will be consolidated in two U.S. locations, in our current research campus in Washington, D.C., and in a new, expanded footprint in Pasadena, CA, which will include a new building designed to meet the research needs of our life scientists. This organization will support and encourage new research ventures that cross disciplinary lines, reduce internal barriers to collaboration, and create opportunities for Carnegie researchers to explore and discover.
"Today, the nature of science is changing around us. Increasingly, forefront science requires both individual researchers and diverse teams who use world-class equipment and facilities and work across disciplinary boundaries to expand our understanding of matter, life, Earth, and the universe."
Dr. Eric D. Isaacs
11th president of the Carnegie Institution
Our plans for Pasadena include a deeper, more formal relationship with Caltech that will build upon our historic collaborations in astronomy and astrophysics and offer exciting new opportunities in global ecology, genetics and developmental biology, and plant biology. The Pasadena location also will enable us to expand upon existing Carnegie research relationships with Jet Propulsion Laboratory and other universities and institutions in and around Los Angeles. Looking ahead, we believe Carnegie will make a powerful contribution to Southern California's growing reputation as a top-tier research hub.
To support our plans for our new location and to secure our ability to invest in future science, we have decided to sell our P Street headquarters, following a discernment process that has taken place over several years. We are aware that this beautiful building has been an important part of this institution's public face for more than a century, and it has provided some exceptional opportunities to bring our science to the public, and to convene communities of scientists. Unfortunately, it is not well suited for scientific exploration in the 21st century. So we have come to the realization that it is time to sell this great asset and invest the proceeds in our work and our future.
I would add that the last year has given us additional insights into the best ways to engage with the public. The pandemic forced us to make our evening lecture series virtual instead of presenting in our P Street auditorium. Although we were initially hesitant about making that shift, we have found that our virtual lectures are drawing an audience of science-loving people from around the world. That proved to us that people are interested what we have to say, not where we say it.
Throughout these organizational changes, our science has continued to flourish. Astronomer Andrew McWilliam and his collaborators have been turning their gaze from the chemical evolution of Red Giant stars to take a deeper look at the atmospheres of terrestrial exoplanets. Their colleague at the Observatories, staff scientist Nick Konidaris, is serving as instrument lead for the Sloan Digital Sky Survey-V's Local Volume Mapper, a coordinated system of four telescopes that will enable a massive spectrographic survey to reveal for the first time how distinct gaseous environments within galaxies interact with each other and with stars.
Geoscientists Steven Shirey, Anat Shahar, and Michael Walter have won a National Science Foundation grant to study the minerals trapped in "superdeep" diamonds that form in the Earth's mantle. These minerals provide important insights into the origins, changing composition, and circulation of materials hundreds of miles below Earth's surface. In Life Sciences, Moisés Expósito-Alonso and his team are improving our ability to predict species extinction by investigating the ways the ability to adapt is encoded in DNA. Given recent predictions that one-third of all animal and plant species on the planet could face extinction by 2070 due to climate change, the ability to develop predictive models of ecological adaptation could be crucially important.
We also continue our commitment to science education and outreach. As you'll read in this report, our Carnegie Academy for Science Education (CASE) has opened the doors to careers in biotech for high school students by partnering with the National Capitol Area YWCA to create a rigorous biotechnology curriculum, including research-grade laboratory equipment, for teachers in Washington, D.C.,
One sad note: We continue to feel the loss of Don Brooks, our Building Maintenance Specialist. He died in October at age 75 of complications of coronavirus after more than half a century as a member of the Carnegie Science community.
Throughout this difficult year, I have gained strength and encouragement from the example set by so many of our dedicated colleagues. I believe that the lessons we have learned together throughout this pandemic will guide us as we work to renew our organization, strengthen our leadership, and expand our impact.
We stand at a pivotal moment in the history of Carnegie Science. This organization has endured and flourished for more than a century because our founder understood the powerful results that can be achieved when great scientists have the freedom and resources to follow their curiosity, pursue novel ideas, and tackle the big questions that capture their imagination and inspire their best work. As we move forward, our every effort will be focused on assuring Carnegie Science's present and future ability to pursue bold research, seize new opportunities as they arise, and define new exciting fields of investigation from their very inception.
Sincerely,


Pandemic Pivot
In the spring of 2020, the COVID-19 pandemic required Carnegie to postpone our public programming, including lectures in Washington, DC, Baltimore, and San Marino, California. Despite the limitations on public gatherings necessitated by the global health crisis, we remained committed to bringing people together to discuss, learn about, and celebrate scientific discovery. We felt strongly that the circumstances presented an opportunity to garner fresh interest in the scientific enterprise, which informs our understanding of our cosmos, our planet, and the synergy of molecules that make life possible.
In order to rise to the challenge, Carnegie not only reformatted our previously scheduled programs as virtual lectures that were broadcast across an array of platforms, we also launched a new online-only series. Consisting of a short presentation and an extended Q&A period with members of our own scientific staff, these new webinars provide our friends and supporters with the opportunity to see our scientists in their own workspaces, to hear the stories behind their investigations, and to learn about exciting new pathways they are exploring.
Now more than ever, we believe it is crucial to reaffirm our commitment to public outreach about scientific research, which continues to provide us with answers about how to fight this destructive virus, as well as many other outstanding questions about the world in which we live.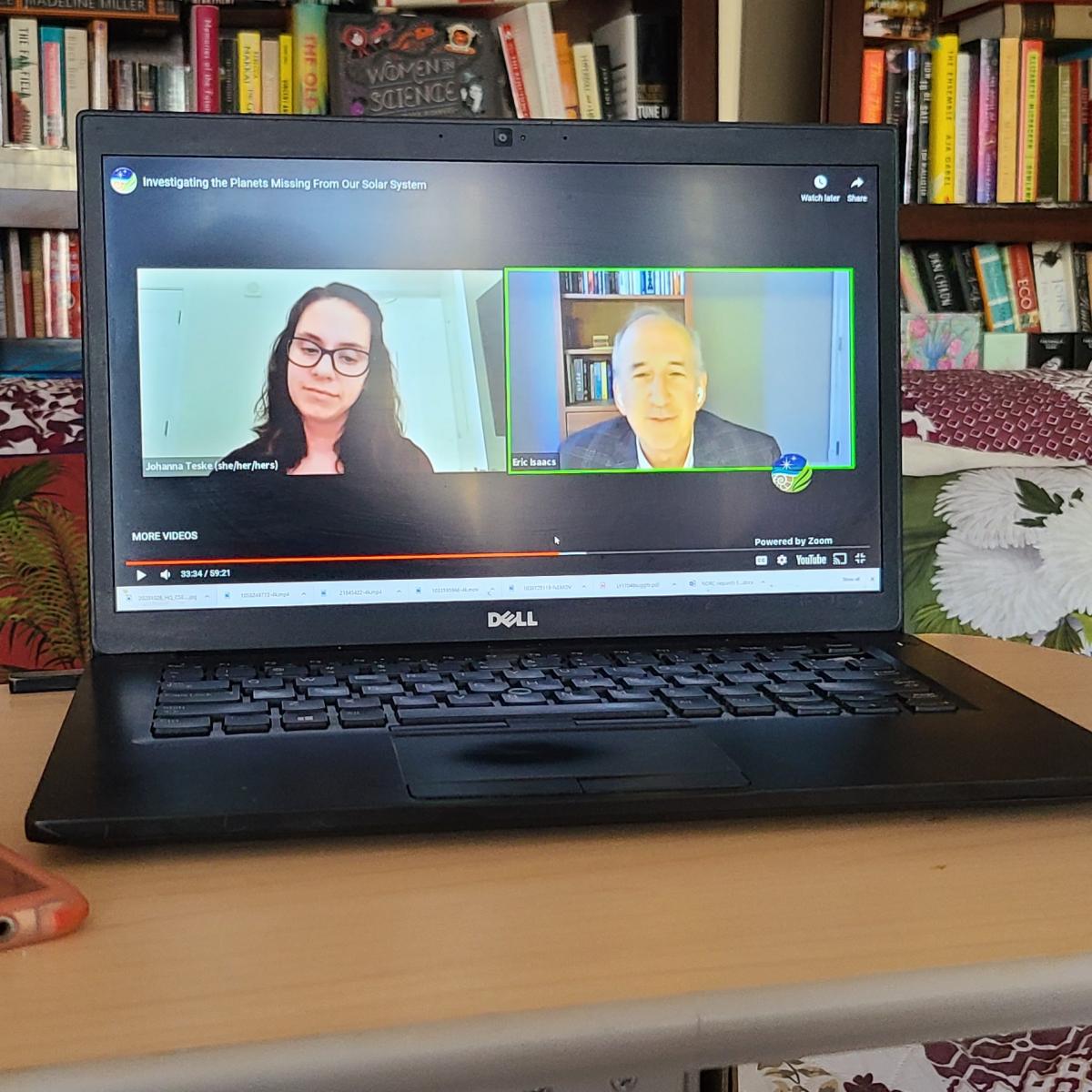 Carnegie Impact
Some 60 senior Carnegie investigators, with postdoctoral researchers and other colleagues, including technicians, engineers, machinists, business administrators, and building and support staff all contributed to more than 532 papers published in the most prestigious, peer-reviewed scientific journals. Many discoveries were widely covered by the media—as you will see in the Carnegie In The News sidebars scattered throughout the science highlights—and had extensive social media reach.
67
Faculty Members
532
Published Papers
3600
Citations
Download Carnegie Science Annual Report