Washington, DC—Our planet provides ample research opportunities for scientists like Diana Roman, who has devoted her career to understanding the geologic forces that shape volcanic eruptions. She just needs to be on standby to seize them when they arrive.
Roman, recently named a Harry Oscar Wood Chair of Seismology at the Carnegie Institution for Science, wasn't initially planning to travel to Iceland to get a look at the Fagradalsfjall "baby" volcano—in Geldingadalir—which erupted onto the scene in the Reykjanes Peninsula just this past March, mesmerizing the world with images of its cascading lava and "science fair"-style cone.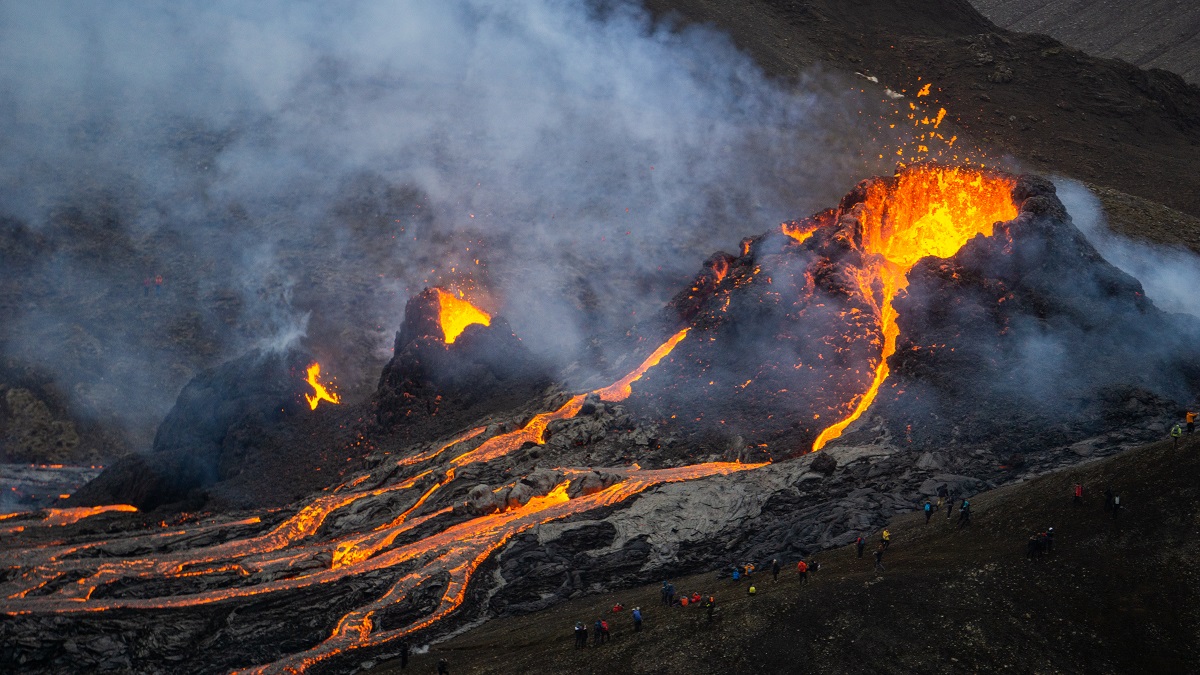 But when an offer to join a team of geochemists and biologists who were headed to the new fissure arose in June, she grabbed two of her custom-built seismological monitoring tools and hopped on a plane bound for Reykjavik.
Together with her colleague Lara Wagner, an earthquake specialist and the other Wood Chair at Carnegie, Roman developed a rapid-response seismology "go-box."  Following in the great tradition of Carnegie scientists like Charles Richter, for whom the earthquake magnitude 'Richter-scale' is named, Roman and Wagner developed a novel seismometer which packs all the necessary equipment for field seismic stations into a weatherproof container that is compact and portable enough to be transported anywhere in the world as luggage on a commercial airline.  
Most traditional seismic installations involve burying a 55-gallon plastic drum in a deep hole and pouring fresh-mixed concrete around it—requiring an enormous amount of time and effort to set up.   
The Iceland eruption was a superb opportunity to demonstrate the advantages of Roman's and Wagner's grab-and-go Quick Deploy Box.
"I had a couple of our instruments in house and ready, which enabled me to hop on a plane with the idea of testing out some new ideas about the properties of the magma inside a volcanic system," Roman said. "There were at least a dozen teams descending on Iceland this spring and I wasn't intending to join them, but the volcano decided for me."
Added Carnegie President Eric Isaacs, who is traveling with Roman to Iceland this week to pull her seismometers off the new volcano before winter hits the island nation: "Scientists are problem-solvers and creative thinkers by nature. Enterprising researchers like Diana and Lara must often develop their own novel tools in order to root out the answers to fundamental questions about life, our planet, and the universe."
Roman is interested in how the viscosity of magma in a volcano's plumbing system, which influences its style of eruption, is indicated in pre-eruption earthquake activity.
Very viscous magmas are linked with more powerful explosions because they can block gas from escaping through vents, allowing pressure to build up inside the volcano's plumbing system. On the other hand, extrusion of more viscous magma results in slower-moving lava flows.
Earlier this year, Roman published new work in Nature about the 2018 eruption of Kīlauea Volcano in Hawai'i, which included the first eruptive activity in its lower East Rift Zone since 1960.  She and her colleagues were able to identify an indicator of magma viscosity that can be measured before an eruption. This could help scientists and emergency managers understand and prepare for possible patterns of future eruptions. 
New eruptions like those in Kīlauea's lower East Rift Zone and Iceland's Geldingadalir offer researchers like Roman unprecedented access to information.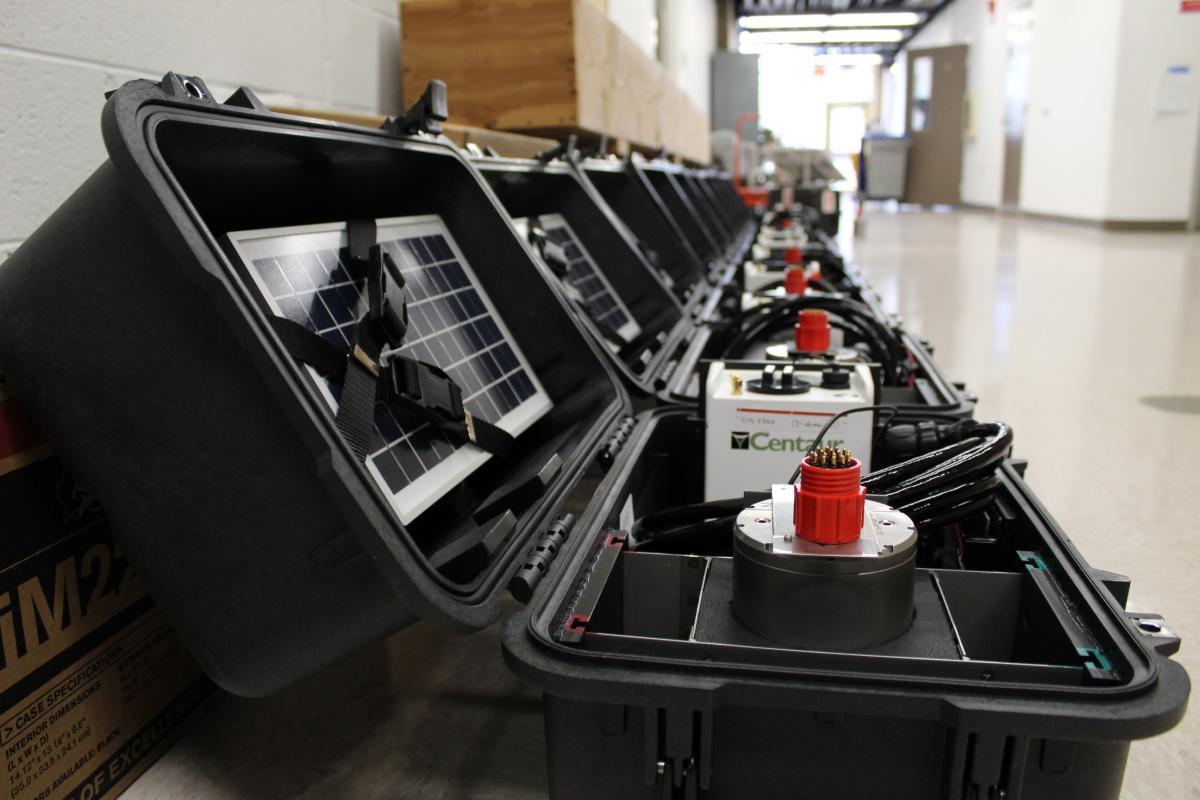 "One of the challenges of studying volcanism and seismic activity, is that our laboratories, so to speak, are often very difficult to access," Roman explained. "Iceland presented an easy-to-reach opportunity to observe the formation of a new fissure system and the Quick Deploy Boxes allowed me to jump when the chance arose."
She is hoping that the two instruments she placed in June will have recorded data that can further elucidate how the solid rock through which magma travels can teach us about its viscosity.
"The new volcano in Geldingadalir presented a perfect storm of my usual motivations—the need to react quickly to a volcanic event and the advantages that our Quick Deploy Box provides—as well as my research focus on magma viscosity," Roman added.
A fundamental understanding of the forces that shaped this new fissure and how they fit into the big picture of what's happening underneath the larger Fagradalsfjall system could eventually inform the efforts of volcano and seismic monitoring agencies like the U.S. Geological Survey and others around the world charged with forecasting eruptions and notifying the public of potential hazards.
"Diana's work is an illustration of the importance of investing in basic scientific research. The groundwork laid by her research could greatly enhance the abilities of official monitoring teams and emergency managers to prepare for and mitigate the damage caused by future eruptions," concluded Isaacs. 
Top Image Caption: Diana Roman collecting samples from the Cleveland Volcano with Tana Volcano on Chuginadak Island in the background. Image is courtesy of Anna Barth, Lamont Doherty Earth Observatory.
Second Image Caption: The Fagradalsfjall "baby" volcano in March 2021. Purchased from Shutterstock.
Bottom Image Caption: The Carnegie Quick Deploy Box, developed by Carnegie's Diana Roman and Lara Wagner with support from The Brinson Foundation, takes advantage of technology improvements to make compact and cost-effective broadband seismometers, facilitating rapid-response deployment.