Overview
Astrobiology is the search for the origin and distribution of life in the universe. A microbiologist by training, his principal interest is in developing protocols, instrumentation, and procedures for life detection in samples from the early Earth and elsewhere in the Solar System.

The main focus behind Andrew Steele's research has been the development of scientific and measurement criteria for the unambiguous detection of life in early Earth and Mars samples, future robotic and sample return missions to Mars, and missions to Europa and Enceladus.
The scientific underpinning of this work has revolved around establishing a "null hypothesis" to life detection that relies on accurately cataloging non-biological morphological and organic chemical input to a particular sample. His laboratory work has concentrated on samples as diverse as Apex chert, Strelley pool chert, Isua, Akilia, Gunflint samples, as well as mantle xenoliths, fossil lagerstatten (Enspel, Messel), Martian meteorites, Apollo return samples, ordinary and carbonaceous chondrites, Stardust, ureilites, and inclusions in diamonds.

He uses light microscopy with high resolution scanning confocal Raman spectroscopy to initially survey samples of interest.

The search for life cannot be accomplished with confidence in one particular measurement, and as such multiple analysis techniques must be used on the same sample to give a convincing answer. Steele has developed the capability to use and interpret data from a wide range of instrumental techniques, including; Atomic Force Microscopy, Scanning and Transmission Electron Microscopy, FTIR spectroscopy, Isotope Ratio Mass Spectroscopy, Time of Flight Secondary Ion Mass Spectrometry, Gas Chromatography-Mass Spectrometry, Electron and Ion Microprobes, X-ray elemental and Diffraction analysis (EDX and XRD), microbial culturing and aseptic technique, biomolecule extraction, DNA amplification, Lab-on-a-chip microfluidic capillary electrophoresis and metabolism, and endotoxin analysis.

He has been instrumental in developing several of the latter techniques for robust use in field conditions and was a part of a team using non-culture-based methods on the International Space Station.

His laboratory work with a range of co-investigators has led to some significant discoveries, including; lunar graphite, new carbon allotropes in meteorites, the detection of 4 abiogenic organic carbon synthesis mechanisms on Mars, as well as water in lunar and Martian rocks. This year I have also been part of the COSAC instrument team onboard the Philae lander on the ESA Rosetta mission. By following the trail of abiotic carbon, he has become very interested in the terrestrial and Martian deep carbon cycles. His current work focuses on what appears to be an explanation for reduced carbon species within the terrestrial and Martian mantles, following the unambiguous discovery of organic carbon in Martian meteorites.

He is also a co-investigator on the Sample Analysis at Mars (SAM) instrument onboard the Curiosity Mission and the SHERLOC instrument on Perseverance (Mars 2020) Mission.

In an effort to continue setting an abiotic baseline for the detection of life, Steele and collaborators have been undertaking high pressure and temperature experiments into organic carbon produced during the cooling of silicate melts. He is currently funded to undertake these experiments through a NASA grant, and we will continue to vary temperature, composition, and oxygen fugacity parameters to characterise possible organic synthesis reactions in these systems.

Finally, he is exploring a further line of research that I have recently begun, to probe the reactions that could lead to the transition of abiotic chemistry to prebiotic chemistry and then life. At this time, this work has involved bioinformatics research into the nature of protein-nucleic acid interactions that could have led to the first proto-life molecular constructs that led to information exchange and storage under the conditions that formed life on earth. It is Steele's goal to transport this in-silico work into several laboratory experiments that would shed light on the origin of protein / nucleic acid interactions.
Research
Steele has developed several instruments and mission concepts for future Mars missions. He is involved in the 2011 Mars Science Laboratory mission—the Curiosity Rover— as a member of the Sample Analysis at Mars (SAM) team. For a number of years, he journeyed to the arctic every summer to test instruments on board the Arctic Mars Analogue Svalbard Expedition (AMASE).
Steele and his lab member Pamela Conrad are also co-investigators on the Mars 2020 Perseverance Rover's SHERLOC instrument, which will use a microscope as well as laser spectroscopy to search for organic molecules and minerals that have been altered by watery environments and may be signs of past microbial life.
Steele's previous work on Martian rocks delivered to Earth as meteorites and on the current NASA Curiosity mission revealed the presence of organic materials made by non-biological processes on Mars—setting a baseline for SHERLOCs current search for ancient life. These terrestrial laboratory investigations have also prepared Steele for another role on the mission as part of the Return Sample Science working group. This group will help analyze the drilled samples of rock and dirt that Perseverance brings back to Earth.
In 2022, NASA named Steele one of just 16 researchers on the Mars Sample Return Campaign Science Group—established to maximize the scientific potential of Mars rock and sediment samples that would be returned to Earth for in-depth analysis. They will function as a science resource for the campaign's project teams as well as for related Earth-based ground projects, such as sample recovery and curation.
As science (and NASA-funded) PI of the Arctic Mars Analogue Svalbard Expeditions, Steele helped test a range of instruments with dedicated rover platforms for Mars Science Laboratory, ExoMars, International Space Station, and Mars sample return in Mars analog environments in the Arctic. This included the first tests of the caching and coring systems that were developed for Mars 2020 and sample return.
Steele also studies meteorites. Molecules containing large chains of carbon and hydrogen—the building blocks of life—have been the tantalizing targets of many Mars missions. Theories about the origin of the large chains of carbon and hydrogen  macromolecules in Martian meteorites are particularly interesting. They could come from contamination from Earth or other meteorites, chemical reactions on Mars, or remnants of ancient Martian life. Steele and team have been studying meteorites to determine the sources and processing of this carbon.
Using sophisticated techniques, his team showed that some of the carbon was from meteorites and not from contamination, but that the carbon was not biological in origin. They then looked at the carbon molecules in relation to other minerals to understand the chemical processing. They found that the carbon was created during volcanism on Mars, showing that the planet has undergone organic chemistry for most of its history.
More recently, Steele's team helped colleagues study a new class of Martian meteorite that likely originated from the Martian crust. The meteorite, NWA 7034, has an order of magnitude of more water than any other Martian meteorite and its texture is different. It has cemented fragments of basalt, which forms from rapidly cooled lava, with feldspar and pyroxene, most likely from volcanism. This composition is common for lunar samples but not for other Martian meteorites. Steele and his team studied organic carbon within the feldspar. Although the carbon is similar to other Martian meteorites, a different non-biological process was at work.
WITec A SNOM (Scanning Near Field Optical Microscope) with 532nm and 785 nm Confocal imaging Raman spectrometer / atomic force microscope system
Olympus BX61light / epifluorescent microscope with 3D imaging and digital rendering capability
Jasco IMV-4000 FTIR microscope with fast imaging capability and NRS-3000 (532 and 785 nm) Raman spectrometer
Fully equipped microbiology / molecular biology laboratory including

3 laminar flow hoods
2 MJ research thermocyclers
Agilent bioanalyzer
2 PAL ATP luminometers (Field deployable)
2 Charles River PTS rapid LAL instruments
BioRad TGGE gel apparatus
various incubators, freezers (-20 and -80oC), autoclaves, centrifuges etc.
 

Field deployable instrumentation includes

Full PCR laboratory for in-field genetic analysis of microbial ecosystems
ATP and LAL instrument
Scalar digital hand-held microscope
pH, eH and oxygen electrodes,
2 hand-held Raman spectrometers (RS and DeltaNu)
Hand held Gas Chromatography system.
Steele also works with EPL's EOL SEM with EDX and EBSD and Leica FIB system. He has access to Time of Flight SIMS at the Smithsonian Natural History Museum, Department of Mineralogy.
CV
B.S., Microbiology and Biochemistry, University of Central Lancashire, UK, 1992
Ph.D., Biotechnology, University of Portsmouth, UK, 1996
2015 – Member Return Sample Science Review Board for Mars 2020 mission
2015 – Member Review Panel for Mars 2020 Planetary Protection
2014 – Member Mars Organic Contamination Science Steering Group
2013 – Member Mars 2020 Science Definition Team
2012 – Member MEPAG Precursor Science Analysis Group, for NASA, Mars architecture planning
2005 – 2014 Member of the NASA Advisory Committee (Planetary Protection subcommittee)
2005 – 2008 Member of the NASA Mars Exploration Program Analysis Group (MEPAG) Goals committee
2006 – 2008 Member of the US National Research Council. Committee on the Origin and Evolution of Life (COEL)
2006 – 2008 Member of the US National Research Council, Mars Astrobiology Committee
2008 – Chair Joint NAI / MEPAG Mars Science Laboratory Caching Working Group
2008 – Member of the NASA Mars Exploration Payload Analysis Group (MEPAG), Next Decade Science Steering Group
2006 – Chair of the NASA MEPAG Astrobiology Field Laboratory Science Steering Group
2004 – Member of the NASA Mars Exploration Payload Analysis Group (MEPAG) Organic Contamination Science Steering group
2004 – Chair of the Astrobiotechnology Focus Group for the NASA Astrobiology Institute
2003 – Present, Editorial board of the Astrobiology Journal
2009 – 2013 – Visiting Research Scientist – Smithsonian Natural History Museum. Washington DC

2012  – Royal Society UK - Wolfson Professorial award

2009 - Visiting Adjunct Professor – University of Maryland Centre for Marine Biotechnology

Feb 2004 - Presentation to the Office of Science and Technology for the US President (OSTP) on instrument development for future manned and robotic Mars missions

June 1999 – June 2001 Honorary Research Fellowship – Oxford University, School of Earth Sciences

June 1999 – Aug 2003 - Honorary Lecturer, Portsmouth University

Jan 1999 – June 2001 - Honorary Adjunct Professorship, Montana State University

June 1995. Chemistry and Industry – Young Scientist of the Year, held at Cambridge University
Mars Sample Return Campaign Science Group for the Mars 2020 Rover. (June 2022 – present)
Return Sample Science Board for the Mars 2020 Rover. (Sept 2015 – present)
MSL Science Team Member (Aug 2012 to present)
Rosetta Science Team member for COSAC. (July 2014 to present)
Co-I on SHERLOC a deep UV Raman system for Mars 2020. (July 2014 to present)
Science Leader (2006 – 2011) and Co-Expedition leader (2007 and 2009) – Arctic Mars Analogue Svalbard Expedition (AMASE) - testing analytical suite instruments from ExoMars and Mars Science
Laboratory Mars Missions as well as testing next-generation technology for the 2018 NASA Mars Astrobiology Explorer – Caching (MAX-C) mission, 2003 – 2011
Co-Investigator – Sample Analysis at Mars instrument to fly on NASA Mars Science Laboratory mission in 2011. (2007 – 2012)
Co-Investigator – NASA International Space Station mission to test a portable Microbial detection device (Portable Test system, Charles River Inc). 2008 – Present
Co-investigator – European Space Agency, Biopan mission to test exposure of Microarrays in low earth orbit (2007)
Co-investigator - Raman Spectroscopy of returned Cometary material on the NASA Stardust mission to return January 2006
Collaborator - Life Marker Chip in collaboration with SMILE Marc Sims PI – ExoMars (2018)
Instrument planning for UK Beagle 2 mission – Jan 1997
Photos and Media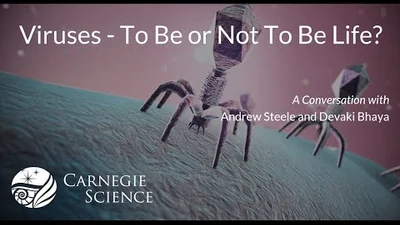 Viruses - To Be or Not to Be Life? A Virtual Conversation with Devaki Bhaya and Andrew Steele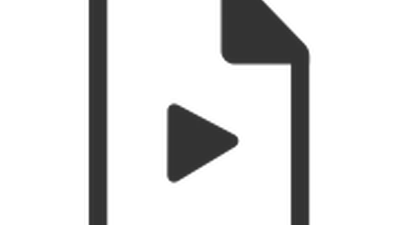 Can Meteorites Point To Ancient Life On Mars? by SciFri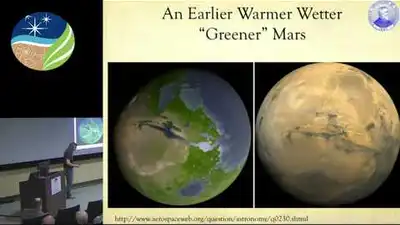 Neighborhood Lecture Series - Andrew Steele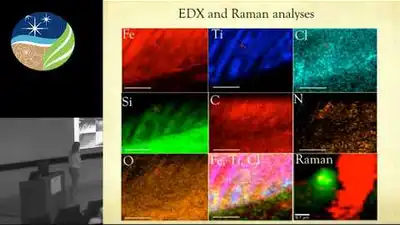 Geophysical Laboratory Seminar Series - Andrew Steele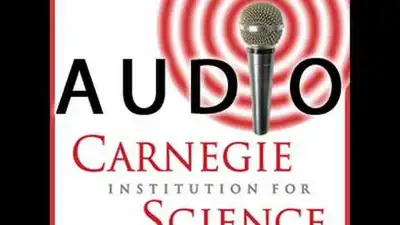 Organic carbon from Mars, but not biological