Overview
Alycia Weinberger wants to understand how planets form, so she observes young stars and their disks, the birthplaces of planets, as well as finding and studying planetary systems.
Studies of the disks surrounding nearby stars help us determine what the conditions for planet formation really are. Young disks contain the raw materials for building planets and the ultimate architecture of planetary systems depends on how these raw materials are distributed, what the balance of different elements and ices is within the gas and dust, and how fast the disks dissipate.

Weinberger uses a variety of observational techniques and facilities to tease apart disks. She has a long-standing interest in ultra-high spatial resolution imaging using advanced instrumentation on the ground and in space. For example, with the Hubble Space Telescope, she images the smallest dust grains in disks at different wavelengths to examine the dynamical state and composition of the disk. With Carnegie's Magellan Telescopes, she looks for where and how abundant ices and organics exist throughout disk evolution. With the Large Binocular Telescope Interferometer, she is searching for faint remnant disks, such as the Solar System's Zodiacal cloud, that betray the presence of planets and asteroids that might otherwise not be known.

The study of the young stars that host and illuminate disks also informs our ideas of planet formation, because stellar and planetary evolution happens contemporaneously. Weinberger measures the properties of young stars to better understand their birthplaces and evolution and, thereby the influences on their disk evolution. She is also involved in projects to detect and take spectra of planets around nearby stars, particularly with the Giant Magellan Telescope.
CV
California Institute of Technology Physics M.A.1993, Physics Ph.D.1998

University of Pennsylvania Physics B.A. 1991
Fellow of the American Astronomical Society

Beatrice Tinsley Visiting Fellow at University of Texas Austin, 2011

Vainu Bappu Gold Medal of Astronomical Society of India for 2000 (awarded 2002)

UCLA Chancellor's Award for Postdoctoral Research, 2001

Annie Jump Cannon Award, 2000

Phi Beta Kappa, 1991
Chair, Gordon Conference on Origins of Solar Systems, 2023
Member, U.S. Extremely Large Telescope Program Advisory Committee, 2018–present
Chair, Magellan Telescopes Science Advisory Committee, 2019–present (Member, 2014-present)
Member, Committee on Astronomy and Astrophysics of the National Academies of Sciences, Engineering, and Medicine, 2019-2022
Member and Author of the Consensus Report, Committee on Exoplanet Science Strategy of the National Academies of Sciences, Engineering, and Medicine, 2018
Full Member, American Astronomical Society and Division of Planetary Science
Carnegie Institution for Science, Scientific Staff Member, 2001–present

University of California, Los Angeles, NICMOS Postdoctoral Research Astronomer and Astrobiology Postdoctoral Fellow, 1998-2001
Committees & Professional Service
Committee on Astronomy and Astrophysics of the National Academies of Sciences, Engineering, and Medicine, 2019-2022

SOFIA Science Council of Universities Space Research Association, 2017–2022

National Radio Astronomy Observatory, Student Observing Support Review Panel, 2017–2021 (Chair, 2019-2021)

Magellan Telescopes Science Advisory Committee, 2014–present (Chair, 2019-present)

Steering Committee, NASA Nexus for Exoplanet System Science, 2018–present

Chair, Gordon Conference on Origins of Solar Systems, 2023 (postponed from 2021)
Research
From the youngest stars still enshrouded in clouds of gas and dust to the bulge of stars that record the history of the assembly of the Galaxy, Carnegie's Magellan Telescopes have an amazing view of the Milky Way. Alycia Weinberger and her team are building an incredibly capable near-infrared spectrograph—called MagNIFIES. It will have the largest simultaneous wavelength grasp, be the most efficient, and therefore have the best sensitivity, of any such instrument ever.
MagNIFIES will take the collecting power of the 6.5 m Magellan telescope and disperse and collect all the light at wavelengths from 1.07 to 5.3 μm simultaneously in six sub-spectrographs aligned on a common platform. With spectral resolutions in excess of 40,000, MagNIFIES will have the largest spectral grasp of any high dispersion instrument in the world. It will be made possible by a collaboration between Carnegie, Giant Magellan Telescope Organization, University of Texas at Austin, and the Korean Astronomy and Space Science Institute with major users across the Magellan Consortium.
Learn more
Visual and near-infrared imaging provides detailed morphologies and colors of resolved disks. Alycia Weinberger has been PI or co-I on many programs HST programs over the years to image disks, particularly nearby dusty debris disks. She is currently working with the Magellan Extreme Adaptive Optics System (MagAO-X) to image disks at visible wavelengths.
Debris dust arises from the collisions and evaporation of planetesimals, and it is these same planetesimals that are the building blocks for planets. Weinberger and her team are making porous aggregate dust models to improve our ability to retrieve dust composition from measurements of disk colors (and, in the best cases, spectroscopy and polarization). The goal is to be able to estimate the organic-to-silicate-to-ice ratios of the dust to constrain the place of formation and subsequent processing. By studying the grain composition directly with spectroscopy over a range of distances from the star, she tries to learn about the processes of planet building and collisions that occur in disks.
Using the high spatial resolution and sensitivity of the Hubble Space Telescope and ground-based telescopes such as Magellan, Weinberger studies dusty circumstellar disks as the birthplaces of planetary systems. The observations elucidate disk geometries and dust composition and in an ensemble fashion teach us about the evolution of disks and the timescales for planet formation within them. She aims to connect the disks around other stars to our understanding of planet formation in our own Solar System and in other systems.
Learn more
Along with fellow Carnegie astrophysicist Alan Boss, Alycia Weinberger is on an astrometric search for gas giant planets and brown dwarfs orbiting nearby low-mass dwarf stars. They use the 2.5 m duPont Telescope at Carnegie's Las Campanas Observatory in Chile.

They have followed about 100 nearby (primarily within 10 pc) low-mass stars, principally late M, L, and T dwarfs, for 10-15 years (e.g. Boss et al. 2009). They are searching for giant planets in architectures similar to that of the solar system, which could permit the existence of habitable, Earth-like planets on shorter-period orbits. These stars are generally too faint and red to be included in ground-based Doppler planet surveys. The smaller masses of late M dwarfs also yield correspondingly larger astrometric signals for a given mass planet.
Their search will help to determine whether gas giant planets form primarily by core accretion or by disk instability around late M dwarf stars.
Media and Recorded Talks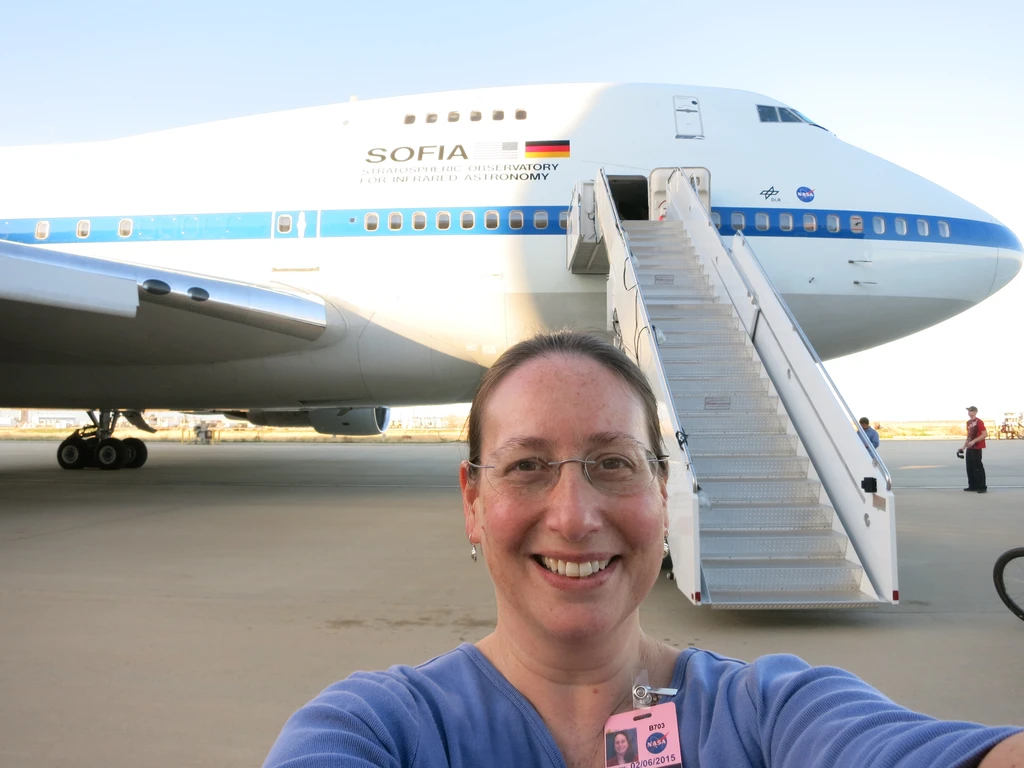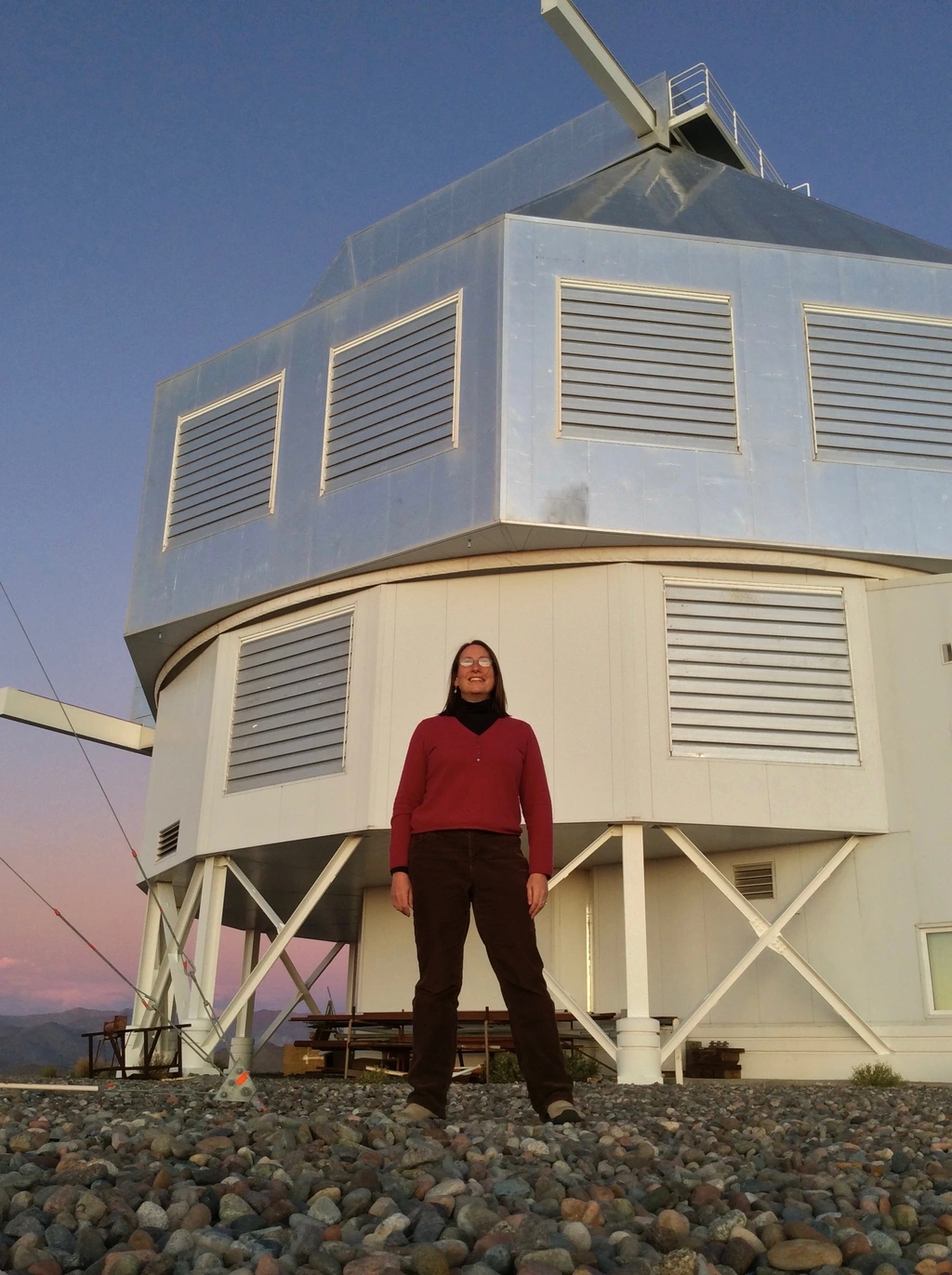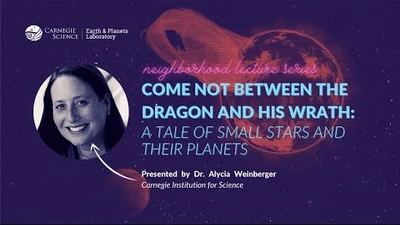 Come not between a dragon and its wrath | Neighborhood Lecture Series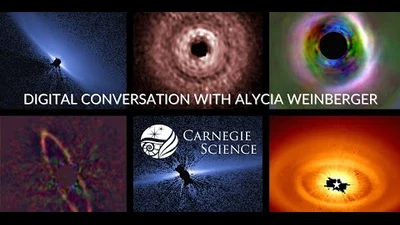 A Virtual Conversation with Astronomer Alycia Weinberger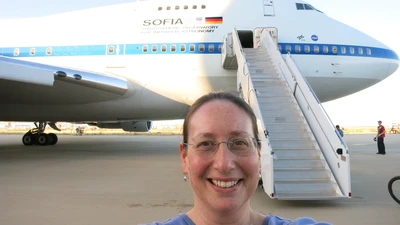 Boarding SOFIA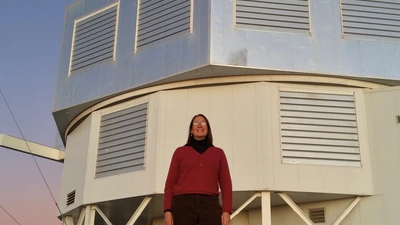 Alycia Weinberger in front of Magellan Telescope